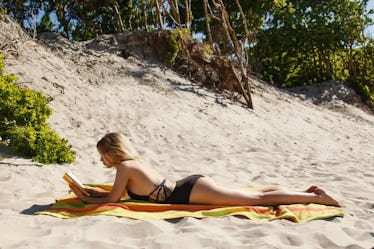 The Best Books To Keep In Your Beach Bag This Summer Are Total Page-Turners
Let me paint a little picture for you. It's a warm summer morning, and you're packing your beach bag. You and your besties have plans to hit the sand all day, and you woke up early so you'd have extra time to get prepared. Around 8 a.m., you threw your lounge chair and colorful umbrella into your car, and an hour or so later, you tossed your cooler in the trunk, too. You texted in the group chat right away saying, "I'm basically ready to go!" But when it comes time to leave, you realize that you forgot one major essential: a good book. Bringing along the best beach reads for 2019 completely slipped your mind, and now you're begging your BFFs to stop at a bookstore.
These are the books that'll make a splash in your summertime plans. They'll keep you relaxing and working on your tan lines when everybody else is tossing a ball back and forth in the water, and saying, "Just one minute," when the barbecue food is waiting to be served. They'll pull you into different worlds, inspire you, and tug on your heartstrings.
Spoiler alert: These five books may even make you laugh every once in a while, or want to post a picture on social media with the caption, "My weekend is all booked up." Toss them in your beach bag, OK?