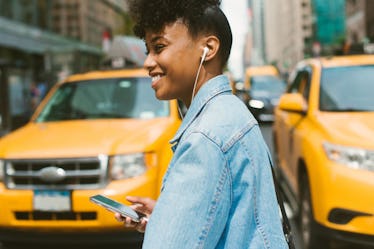 5 Attainable Weekend Trips You've Been Overlooking Right Here In The U.S.
Cheers to the weekend! Toast your cup of iced coffee to catching up on sleep this Saturday morning, and to being as lazy as possible on Sunday afternoon. That's what these two days of the week are for, right? Well, yes, but they're also the perfect time to get out into the world and find some adventure. From my personal experience, I can tell you that the best memories can be made when you choose to wake up and hit the road, instead of staying bundled up in your blankets. There are so many attainable weekend trips, in particular, that you and your besties can take — that are right here in the U.S., too. Pack up your backpack, and then let's go.
The beauty of weekend trips is that they really don't require much planning. You could decide rather spontaneously to book a cute Airbnb along the coast, or to check out a city that's been on your bucket list for forever. And you wouldn't miss a beat of what that place has to offer. At the last-minute, you could load your car up with a bunch of snacks and road maps, or catch a train to elsewhere. Can I make a few suggestions, though?
First, wherever you go, bring a camera and a good pair of walking shoes. You never know where adventure make take you! Second, don't overlook these five spots in the U.S., because they're affordable and attainable, and waiting for you.