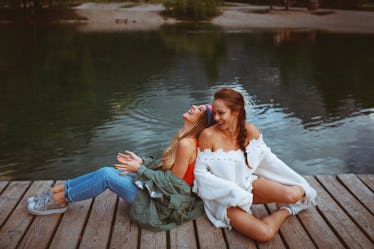 5 Things You Can Only Relate To If You're From Connecticut That Make You Love It
I grew up on the East Coast. So, like you, I've dealt with my car being covered in snow on winter mornings, and the crowded train stations. I've driven through windy backroads while listening to country music, and spent hours by a campfire with my best friends. There are some things you can relate to if you're from Connecticut, in particular, though.
My best friends and I always complained about Connecticut. We thought there was nothing to do, and couldn't wait to head off to college in New York City or somewhere with not so many apple orchards and farms. We spent most of our nights sitting at the local diner, talking about high school things over plates of home fries and milkshakes. We had big dreams of moving to the West Coast, and relaxing on beaches that weren't covered in rough shells and rocks, too.
Now, after traveling the world and living in other towns or cities for a little while, I've come to really appreciate home sweet home. I've energetically talked about the traffic on I-95, and owned up to stopping at Dunkin' Donuts or Starbucks 365 days out of the year. I rave about the restaurants in New Haven, and the beautiful state parks I love to go hiking or kayaking in. This state truly has a lot to offer, and if you're lucky to come from Connecticut, then you can relate to these five things all too well.