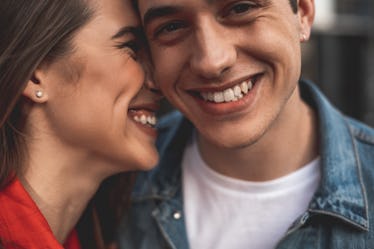 4 Tips For Feeling Happier In Your Relationship, According To An Expert
Shutterstock
During the early stages of a relationship, happiness comes pretty naturally. You're seeing someone new, you're super excited about them, and everything you do together feels easy, romantic, and fun. But after months of getting into a routine with your partner, you can start to learn things about each other that aren't so perfect. Maybe they have habits you really don't like, or maybe you struggle to be vulnerable about certain things. You'll inevitably face some hard times — but the good news is, this doesn't have to destroy your connection. These tips for feeling happier in your relationship can help you remember why you fell for your partner in the first place.
Contrary to what it might seem, happy relationships can take work. Most couples who seem blissfully joyful together are super intentional about the ways they communicate. If you and your partner aren't willing to express your needs and desires to each other, you can start to feel like you're out of touch and disconnected, experts say. So, if you want to add happiness back into your partnership, do it on purpose! Try implementing strategies to be more open with each other about what brings you joy. The more you feel a baseline of trust and loyalty in your relationship, the more you can let down your walls and enjoy each other.
That being said, you should never have to force happiness with your partner. If you are truly miserable, it might be time to rethink the relationship entirely. Sometimes, things just aren't right, and all your efforts won't result in a meaningful change in your partner's attitude or behavior. In these scenarios, you should feel empowered to make whatever decision is best for your life.
But for those couples who just need a little fresh energy to bring the joy back, behavioral scientist Clarissa Silva shares her best tips for making your relationship happier.