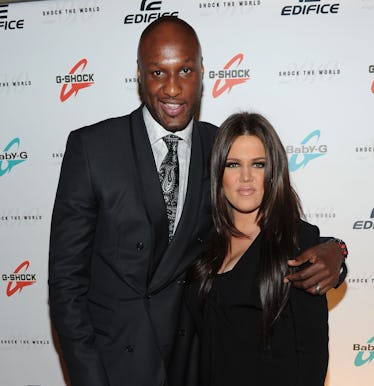 4 Times Celebrities Got Real AF About Going Through A Public Breakup
Jason Kempin/Getty Images Entertainment/Getty Images
If you've ever had you're heart broken before, congratulations! You are officially a human. And, while it seems like celebrities can't possibly be human, they do experience the same issues as us mere mortals — including going through a devastating breakup. So for anyone who has gone through or is going through a breakup: You are totally not alone, and maybe these four celebrities who got real about going through a public breakup will help you, empower you, or at least make you completely relate.
Before we get to reading about what these celebs have to say about going through a breakup, just remember that these people had to deal with all of the issues and emotions of ending a relationship but with like, millions of people watching their every move. Can you even imagine running to the grocery store in sweatpants (not even remembering the last time you showered) to go grab some of your favorite breakup snacks, only to realize that people are taking photos of you? I think we don't give people in the limelight enough credit for keeping their composure no matter what is going on in the personal lives, so let's all just take a moment to thank all the gorgeous celebs who prove that you've just gotta hold your head up high and continue on living your best life in the wake of a traumatic split.
We'd give you an award for that, but you guys already get so many of those. So, without further adieu...
1. Kim Kardashian
It only took 72 days for their marriage to krumble back in 2011, but that doesn't mean that Kim Kardashian and Kris Humphries' breakup was any easier than other marriages that ended in divorce.
Kardashian opened up on her personal blog about how she knew she should have ended her relationship sooner, but felt "caught up" with the filming of the show Keeping Up With The Kardashians. After their split, she wrote:
I want a family and babies and a real life so badly that maybe I rushed in to something too soon. I believed in love and the dream of what I wanted so badly. I felt like I was on a fast roller coaster and couldn't get off when now I know I probably should have. I got caught up with the hoopla and the filming of the TV show that when I probably should have ended my relationship, I didn't know how to and didn't want to disappoint a lot of people.
Thankfully, our girl found her perfect relationship with Kanye, and now they have the most adorable babies together.
2. Jessica Simpson
Jessica Simpson and Nick Lachey were the golden couple of the early 00's. After getting married in 2002, their show, Newlyweds: Nick and Jessica, only made the world fall in love with them even more. So when the couple divorced in 2005, everyone was crushed. In an interview with Glamour back in 2009, Simpson spoke about what it was like splitting from Lachey, and the difficulty she faced because of how publicized her marriage was:
It was like a death in the family: You go through the mourning stage, then the rebellion, and then all of a sudden you have to find life by yourself. Once you do that, you feel complete — and that's the only time you can truly fall in love again, and give yourself over completely to another person.
Eesh, that sounds pretty rough. Luckily, both Simpson and Lachey have found love again, so this story has a happy ending.
3. Calvin Harris
Calvin Harris opened up about his 2016 breakup with Taylor Swift, and that same year, told British GQ that their relationship just "clearly wasn't right, so it ended." He also emphasized the struggle of having the details of something so personal become very public. He said:
It's very difficult when something I consider so personal plays out very publicly ... The aftermath of the relationship was way more heavily publicised than the relationship itself. When we were together, we were very careful for it not to be a media circus. She respected my feelings in that sense. I'm not good at being a celebrity.
Of course, there was a bit of drama that followed their split, after Harris threw shade at Swift on Twitter, but let's try to keep the past in the past, shall we?
4. Khloé Kardashian
While we're absolutely loving mom-to-be Khloé Kardashian and Tristan Thompson's relationship, she did have a very public divorce with Lamar Odom in 2016, and was very candid about how awful it was to see rumors and gossip in the tabloids during the dissolution of her marriage. Kardashian went on Howard Stern's SiriusXM show and discussed how she came to terms with the rumors that Odom was unfaithful. She said:
He was so good. Nothing was on his cell phones, he had an assistant and they were all on his assistant's phones so he was really crafty ... It's disgusting, and I was pissed at the assistant. And all these rumors kept coming out in the weeklies, and as much as I know they're bullsh*t, where there's smoke there's fire. Something has to be right here.
Despite their tumultuous ending, Kardashian still said that she didn't regret their marriage, saying that, "I know we loved each other, I don't question those feelings." That's sweet, but I'm glad Khloé had the sense to realize that maybe she could find someone else that would be a perfect fit for her.
There you have it, folks. So the next time you're having a hard time going through a breakup, just look back at these celebrities who had to do it all in front of a camera. I guess we should all be thankful that us average people can cry on the couch and eat a pint of ice cream in peace.