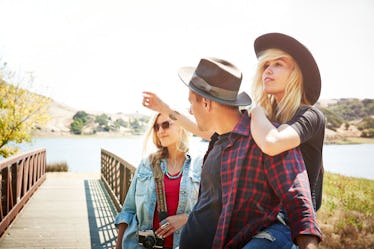 4 Signs Your Friends Don't Like Hanging Out With You & Your SO & What To Do About It
When you and bae are in the midst of your honeymoon phase, you may be too distracted by your new love to notice the things around you, like the signs your friends don't like hanging out with you and your partner. As your relationship transitions out of that phase, you might start seeing the signs that your friends have been, well, avoiding you and your partner lately... even though they have all the time in the world to see just you.
It can be disheartening, to say the least, but your friends likely have their reasons for not wanting to hang out with you and your SO. For starters, dating coach Erika Ettin tells Elite Daily, "You can't talk about your relationship if the other person in the relationship is right there. It changes the dynamic."
There might be certain aspects of your partner's personality or interests that your friends may not appreciate the same way you do. "They may not like the way the two of you are together,"psychiatrist and psychoanalyst Grant H. Brenner tells Elite Daily. "Do you bicker? Is there too much PDA? Do you act too 'couple-y' in groups, making others feel awkward, uncomfortable and excluded?"
Despite what your friends' reasons are for not wanting to hang out with you and your partner, here are some across-the-board signs that they may be purposely steering clear of your relationship.