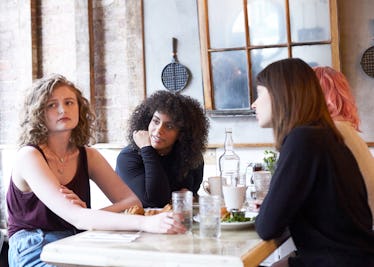 4 Signs Your Friend Isn't Exactly Thrilled By Your Partner's Charming Personality
Ashley Batz/Bustle
If you suspect that your good friend doesn't like your boyfriend or girlfriend, group hangs can get pretty awkward. Even spending time with your friend one-on-one can be uncomfortable when you sense that they aren't the biggest fan of the person you're dating. Being a good friend while in a relationship isn't always easy, but balancing the important people in your life is something you should constantly put effort into doing — and doing well.
According to Joshua Klapow, Ph.D. clinical psychologist and host of the Kurre and Klapow radio show, there are definitely telltale signs to look out for, which may indicate that your friend disapproves of your partner. However, he says that you should never jump to conclusions about why (or even if) they don't think you should be in the relationship.
If you want to know whether a friend of yours doesn't like your boyfriend or girlfriend, the best strategy is to talk to your friend directly about the issue. "Acknowledge that something feels different, give them the permission to be honest with you, and don't get defensive," says Klapow. "Hear them out. If you really want to know, and you really want to get to the bottom of this, you can't shut them down by having an argument for everything they say."
Before you discuss your concerns with your friend, here are four signs that they don't exactly think this is a match made in heaven.