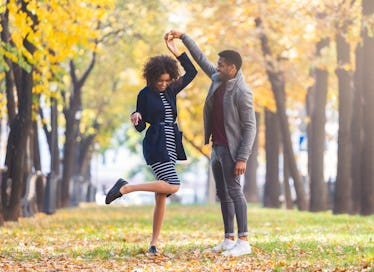 4 Personality Types Who Are SO Fun To Date, So Let Your Hair Down
Shutterstock
What's a relationship without fun? Sure, trust, compatibility, and communication are all key. But TBH, pure pleasure and amusement are underrated. It's just as important that you and your boo can let loose and laugh together because doing so can have a powerful bonding effect. And while every individual has their own unique fun factor to bring to the table, there are particular Myers-Briggs personality types who are especially fun to date.
According to a 2011 Utah State University report on the importance of play, having fun together allows couples to feel more positive emotions, thus increasing their relationship satisfaction while also helping them to overcome differences and work through difficult challenges more easily. But it's important to note that fun is a subjective idea — to some, it means having an intimate picnic in the park, or holing up at home with some comfort food and a Netflix comedy. To others, it means going wakeboarding, or engaging in a thrilling round of paintball. Ultimately, it's all about finding a partner who shares your same definition of fun.
So, looking for a significant other who brings the excitement 24/7? Let's just say there's never a dull moment when you're dating one of these types.