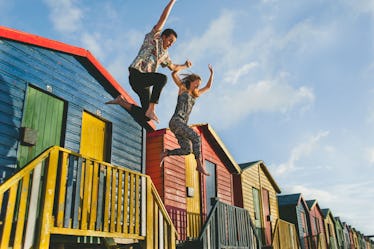 5 Signs Your Relationship Is Full Of Fun, Because Laughter Is Key To Love
When you think of a rock-solid relationship, some elements that may come to mind are trust, honesty, support, and communication. Surely, these are all key to forming a strong, lasting bond. But what about fun — as in, pure pleasure and amusement? It's an often overlooked aspect of a happy, healthy relationship, but it's equally important. After all, while facing some of the curveballs that life inevitably throws your way, you and bae will definitely need to be able to find some levity together. Luckily, there are some signs your relationship is full of fun to look out for.
What does fun look like in a relationship? First, let's talk about what it's not. The opposite of this adjective, according to The Oxford Dictionary, is boring and serious. In other words, if you're constantly scrolling through your social media feeds while in the presence of your partner, and/or feel like you've lost that ability to laugh something off with them, that could indicate that you have a deficiency in the fun department.
But here's the thing about fun. In the beginning, your relationship is inherently chock full of it. There's so much natural excitement because you're still getting to know each other. Every experience you have together feels new and exciting. As time goes on, it becomes more challenging to maintain that sense of fun — but not impossible. Here are some signs you and your boo have been able to keep the fun of alive.