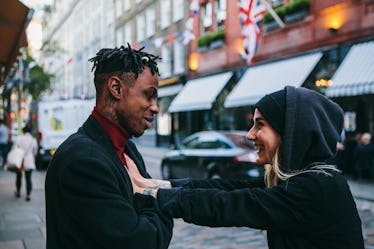 If You're Stuck In A Boring AF Relationship, Here's How To Shake It Up
As date nights turn into movie nights, and sexy jammies turn into old leggings with unintentional crotch holes, you may be met with many possible signs that your relationship is getting boring. It's true, growth of comfortability in a relationship can sometimes mean the decline of sparks. Yet, for every "old married couple" type, there are plenty of LTR that keep the heat turned up. Dating someone long-term doesn't mean the fun has to end.
Far past the stages of "will they text me back?" long-term relationships demand their own kind of excitement. When you know your boo like the back of your hand, it can feel impossible to surprise them. They know your fave Thai place, they know the shampoo you use, and they know you only do that thing they like on their birthday or when there's a good sale at the Gap. But, get this — precisely because you both think you always know what to expect, it can actually be pretty easy (and fun!) to break the routine.
Maybe you said you were ordering take-out, but secretly cooked up a nice dinner. Or you asked bae to binge the new season of House of Cards with you, but really you put on a sexy movie — or every Rihanna music video ever made. When you feel the spice turning down, you don't need to run for the door. You can use the comfortability you have built to keep the sparks flying, deep into the relationship.
I spoke with relationship and wellbeing coach, Shula Melamed MA, MPH, about the signs that you and your boo could use a little shake up, and how to keep up the heat in a LTR.