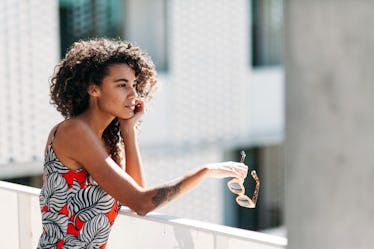 4 Signs Your Relationship Is Getting Boring & It's Time To Spice Things Up
If you've ever been in a long-term relationship, then chances are you've probably felt some variation of boredom with a partner at one point or another. Sadly, the constant excitement associated with the honeymoon phase just isn't sustainable forever. If you've started to notice some signs your relationship is getting boring, then it's a good idea to address this issue head-on.
When a relationship starts to settle into a routine, it's easy to worry that something's wrong. After riding the oxytocin high associated with falling in love, returning to a more stable reality can start to feel like a bit of a letdown. What happened to all of the butterflies and nonstop hookups? Well, according to NYC relationship expert Susan Winter, boredom in long-term relationships is actually way more common than you might think.
"It's absolutely normal to become bored in a long-standing relationship, this is a major challenge for married couples too," Winter tells Elite Daily. "Though the routine of a habitual partnership provides security, it's also prone to boredom. Couples need to keep investing in their relationship in order for it to flourish."
Here, some red flags you should keep an eye out for that might mean you (or your partner) are bored, and what to do about it.