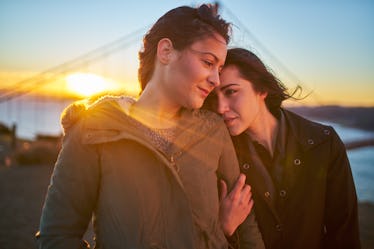 5 Signs You've Reached A Relationship Rut & How To Shake Up Your Routine
There's a common myth that revolves around the "perfect relationship", that never fails nor falters, where both parties remain passionately in love until they're holding hands across rocking chairs. Not a single fight, no need to fix a relationship rut. But this piece of folklore, rooted in rom-coms and country songs, ignores the reality that everyone dwindles from time-to-time — it's completely normal to grow comfortable with your partner, even to the point of boredom.
All couples who are together long-term will experience a lag in their relationship, which isn't necessarily a sign of incompatibility. In fact, it can signify just the opposite: You are so in-sync with your significant other, that you've fallen with ease into a simplified routine. As long as love and respect still exist as the foundation of your connection, excitement can quite seamlessly slip back into your everyday life. The key is to become cognizant of the warning signs that you are indeed entering a rut, and actively try to break it. And hey — not all work is hard work. I'm talking about amping up date night, not studying for the MCAT!
Keep in mind that it's the individuals that determine a relationship, not the other way around. If you're committed to shaking things up, the intention alone is indication enough that what you're fight for is indeed worth it.