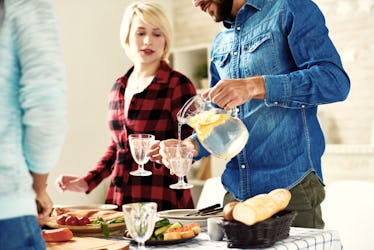 Oh My Gourd, These Are The Best MBTI Types To Bring Home For Thanksgiving
Shutterstock
If you're bringing your partner home for Thanksgiving, not only will they likely be meeting certain family members for the first time, but they'll also be sharing in some of your traditions. On the fence about whether or not it's a good idea? Then consider this: The best Myers-Briggs personality types to bring home for Thanksgiving all have a few important traits in common.
So, what qualities make someone a stellar partner to bring home for the holidays? Social skills and general friendliness can be useful for this occasion, for one. A willingness to help out in the kitchen can also go a long way, as can a degree of open-mindedness — you know, for when Uncle Gary tells those awkward jokes after too many glasses of Beaujolais (insert face-palm emoji).
The personalities that encompass all of these traits are certainly not the only types that you can or should invite home for Thanksgiving, but you can likely rest easy knowing that they'll handle the experience like a pro. If you're toying with the idea of including your boo on Turkey Day this year, then it doesn't get any butter than these Myers-Briggs personality types (pun very much intended).