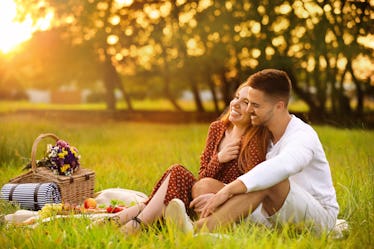 These 4 Personality Types Plan The Best Dates, So Show Some Gratitude
Shutterstock
Let's be real: Some people just seem to have a knack for plotting out memorable meet-ups — you know, the kind you brag to your besties about immediately after they're over (or, TBH, before you even get home). While everyone has their own strengths to bring to the table in this regard, the Myers-Briggs personality types that plan the best dates take it to a whole new level. For some, it's their creativity that gives them a leg up. For others, it's their boundless energy that proves to be a game-changer.
The truth is, it's a pretty subjective skill. After all, how can anyone define what a stellar date is? For a free-spirited extrovert, going dancing or hitting up a karaoke bar might be an ideal experience. But exploring an art gallery and then grabbing cocktails at a cozy speakeasy might be a better itinerary for certain introverts.
While preferences can obviously range vastly as far as dates are concerned, it's safe to say that some people seem to have a certain prowess for plotting out epic experiences. If that's a talent you value in a partner, then keep your eyes peeled for these four personality types who have mastered the art of planning dates.