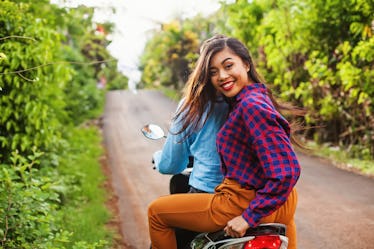 4 Personality Types To Date If You Want A Life Full Of Adventure
Shutterstock
When you imagine your ideal partner, what's the top priority that comes to mind? Are you looking for a travel companion, someone to enjoy new experiences with so you can share the rush? If that's the case, then it's worth knowing the most adventurous Myers-Briggs personality types.
Before we get into which types fall under this category, let's review what it means to be adventurous. According to the Merriam-Webster dictionary, there are several different definitions — it can refer to someone who's disposed to "cope with the new and unknown," and it also "implies a willingness to accept risks." So, you don't have to be a total daredevil to be considered adventurous. But you do need to be game to get out of your comfort zone fairly frequently.
As it turns out, there are a couple of Myers-Briggs traits that seem to be linked to a sense of adventure. It may come as a surprise that Introversion and Extroversion don't play much of a role in this — both preferences can be considered equally adventurous. However, given that Perceivers take a more spontaneous approach to life than Judgers (who prefer planning out their moves), this particular preference seems to be connected to an adventurous personality.
With all of that in mind, if you're looking for a partner-in-crime who's down for anything, keep an eye out for these particular Myers-Briggs types.