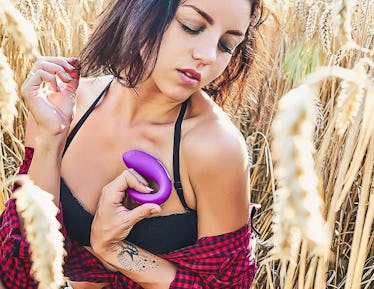 It's Double The Fun When Both Partners Come — Thanks To These Couples' Sex Toys
No matter who you're sleeping with, the experience should be enjoyable for everyone involved — but especially for couples, there can be some added pressure to ensure that things stay fresh and feeling great long-term. The best sex toys for couples can keep things exciting and might even open up some conversation surrounding interests, preferences, and fantasies. When used as a form of experimental discovery, sex toys can also serve as a bonding experience that has the potential to deepen your relationship.
Before implementing anything new into the bedroom, it's a good idea to first have a conversation with your partner to see which toys they're open to trying — as well as which ones are off the table entirely. Some folks can be understandably nervous about the addition of toys, especially if they've never used them before. (If that's the case, consider shopping together, so both you and your partner know exactly what to expect.)
The next step is to consider what types are best — because there are tons of different categories. Think about what you already enjoy most in the bedroom and pinpoint toys that amplify that. Do you like oral? There are toys that mimic that sensation. Are you most turned on when both partners are experiencing stimulation together? They make toys for that, too.
From stealthy vibrators that you can sneak out into public to custom-made dildos, here are some of the cleverest sex toys for couples that can keep things interesting no matter how long you've been together.