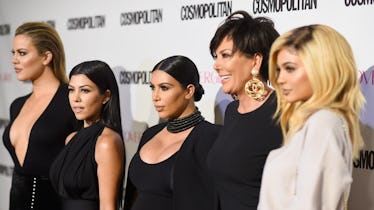 If You're Going Through A Breakup, These 4 Kardashian Quotes Are Just What The Doctor Ordered
FRAZER HARRISON/GETTY IMAGES ENTERTAINMENT/GETTY IMAGES
Breakups suck. Whether you got dumped completely out of the blue or you and your partner had been fighting for a while — a relationship ending can be everything from sad to completely disorienting. When dealing with heartbreak, sometimes hearing other people's stories can make a difference. Knowing that others have been through similar pain can make you feel totally supported. Of course, hearing from your famous friends can help too. When it comes to heartbreak, these Kardashian family quotes about breakups are just what the doctor ordered.
From cheating and lying, to short marriages and public breakups in front of millions of fans, the Kardashians have really been through it all and come out on the other side. Despite all the hardship they've had to overcome, they still spark joy by throwing giant parties for their babies and making amazing fashion choices that cost more than my car. And while they have more money than I can conceptualize and a glam squad around them at all times — they still cry about boys, girls, friends, and foes of all genders, just like the rest of us. Stars, they're just like us!
Here are four Kardashian family quotes about breakups, because they've been through it, and honestly get it.