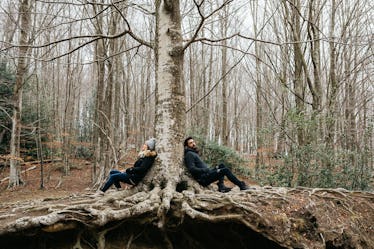 4 Fights That Every Couple Has, So Don't Worry, You're Normal
For the most part, relationships take work. This isn't to say that they're not fun, or that your relationship has to require a ton of effort. But in general, couples fight from time to time. So, if you and your partner have been having more arguments and fights than you're used to, keep that in mind. There are actually certain fights every couple has that can be instrumental to learning and growing together. Not every fight is a bad thing, experts say.
"Every couple goes through bumps on the road, especially after they go through the honeymoon phase, where it's easier to let things slide," Julie Spira, online dating expert and award-winning dating coach, tells Elite Daily. "A fight here or there or argument doesn't mean it's the end of your relationship," she continues. "Managing to communicate and getting through these differing opinions or problems helps your relationship grow." Again, don't stress.
"In any relationship, whether romantic or platonic, it is normal to have arguments," Erika Ettin, dating coach, tells Elite Daily. "When you spend a significant amount of time with someone, it's inevitable that disagreements will arise. So there is no need to worry if you and your partner argue."
Fights are totally normal, but these four fights in particular are super common, so don't worry too much about them! Sure, it might be annoying to deal with, but experts maintain that most of these fights are actually helping you in the long run.