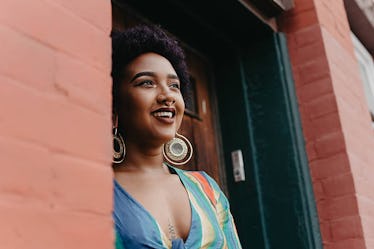 4 Easy & Affordable Ways To Treat Yourself This Summer, Because You're On A Budget
Earlier this year, you sat down and wrote down your resolutions. You thought about attainable goals and big steps toward your dreams that you could accomplish, and some mantras you wanted to keep in mind. You may have written down, "book an international trip," "learn how to make the perfect smoothie," and "do research on moving to the West Coast." So far, you've been pretty good at sticking to these goals. But you're also exhausted and could use some quality rest and relaxation. Let me tell you: You need some cheap ways to treat yourself this summer that'll make you shine bright and stick to your budget.
Although you would love to go on a wellness retreat or enjoy a luxe spa day, those excursions can be really expensive. Plane tickets can take a hefty toll on your finances, and staying in a dreamy hotel that's filled with fountains, hammocks, and places to meditate are the farthest thing from free — or so it seems. Chin up, though. There's an endless amount of things you can do this summer that will leave you feeling the same exact way as those deep tissue massages and yoga sessions.
For example, you could grab some burgers and go stargazing with your significant other. You could get dressed up and go dancing, and forget all the worries you have about work, school, or accomplishing your goals. You can also do these four things that are cheap, relaxing, and adventurous. Got it? Good.