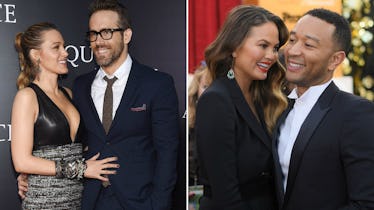 4 Celeb Couples That Are Super Affectionate On Social Media & We Can't Get Enough
Jamie McCarthy/Dimitrios Kambouris/Getty Images Entertainment/Getty Images
Fact: I love love. I think it's the best thing in the world to open Instagram, Twitter, or Facebook, and see someone simply being happily in love with another person. I know that sometimes things can get a little too mushy, and the gushing over another human can sometimes seem to be a bit much, but you know what? I'd prefer seeing love over anger or hatred any day, so BRING ON THE ROMANCEFEST, people! And there are some celebrity couples who are clearly doing something right, because the affection level on their social media pages is basically skyrocketing through the roof, and I am here for it. If you're into feeling the love as much as I am, then these four celeb couples who are affectionate on social media are riiiight up your alley. Trust.
I just want to point out that some couples in this post have been married for years and years (God bless). Others have been dating for, erm, minutes and minutes. But it doesn't matter, because if you're feeling someone, you *should* show the world! So bring me your mushiest, gushiest, happy-go-lucky posts and pictures, because love is cute AF and we all deserve to feel those happy, romantic feels, OK? OK.
1. Chrissy Teigen and John Legend
We're going to start things off right, you guys. We all know that Chrissy Teigen and John Legend are the epitome of #CoupleGoals, and it's clear to see why. If you follow Teigen on social media, you won't be surprised to see that she has a pretty epic time trolling her husband of five years. But she also does a damn good job of gushing about her crooning husband, and he reciprocates the love in return, and basically, this couple gives everyone all the happy feels.
Let's throw it back to July 2016, when Teigen shared a sweet (and also silly, because this is Chrissy Teigen we're talking about) message on her Instagram about John Legend. She wrote,
Back to where it all began - Lake Como, Italy - first came here in 2007. A boat tour guide took us to a little spot on the lake and told us to make a wish. I asked for this to be the man I marry and have children with. I think John asked for the most perfect bite of cacio e pepe. Both came true, and here we are.
D'awww!
And can we just talk for a second about John Legend's post on Instagram for Chrissy Teigen last Mother's Day? He wrote,
Happy Mother's Day to my wonderful wife. Luna is so fortunate to have a mom that loves her so deeply and brings her so much joy. ❤️❤️❤️❤️❤️
BRB, sobbing.
2. Blake Lively and Ryan Reynolds
If Chrissy and John are the king and queen of celeb couples, that would make Blake Lively and Ryan Reynolds the unofficial princess and prince. While they also are a couple who loves a good roast on each other, they both have no shame in expressing their gratitude for one another.
Let's all remember when Lively congratulated her husband on earning his star on the Hollywood Walk of Fame back in 2016. She wrote,
Proud is a pitiful word to describe how I felt today. @vancityreynoldsThe permanence of your impact is undeniable ...Always has been, but now we have a fancy 🌟to show for it. 😊
And who can forget when the popular Instagram account, @HumansOfNewYork interviewed Ryan Reynolds about his wife at a red carpet event in May 2017, basically making everyone dissolve into a puddle of tears? Part of his quote read,
She always responds with empathy. She meets anger with empathy. She meets hate with empathy ... And she's made me a more empathetic person.
Seriously, you two?
Cannot handle all the cuteness.
3. Gisele Bündchen and Tom Brady
When you're as good-looking of a couple as Gisele Bündchen and Tom Brady, it can be hard not to gush about your relationship. Plus, they have a beautiful family and it seems like they are just absurdly in love, so let's just give these two a standing ovation, yes?
Just look at how sweet Gisele's post to Tom was for their most recent wedding anniversary:
What a ride this past 9 years have been. I love learning and growing with you. Happy anniversary love of my lifey!
Love of her lifey? Is that like a cute pet name thing they do? If so, I'm totally stealing it.
And on last year's anniversary, Tom Brady posted an equally adorable photo of him smiling with his bride, writing,
And you have kept me laughing ever since... Happy anniversary love of my life!
Be still, my heart.
4. Cameron Monaghan and Peyton List
For all of you Shameless fans out there, you'll be happy to see that one of the show's characters Ian (played by Cameron Monaghan) has found love with actress Peyton List, and they are one of those couples who are SICKENINGLY cute on social media.
Just look at this disgustingly heartwarming post Monaghan wrote about his #WomanCrushWednesday on Instagram:
#wcw is really a #womancrusheveryday as this lady(@peytonlist) has been as kind as she is beautiful and that's saying something because I mean look:
Gross, but in like, the best way possible.
And check out Peyton List's photo of her with Monaghan, which is less about the caption and more about the actual picture because LOOK AT HOW HAPPY THEY ARE:
I mean, technically they could just be happy because they're at Disney World, but I have a feeling that's not the only reason.
Well, folks, there you have it. Just a handful of celebs proudly showing their love for their honey hang out all over social media.
Cupid, we see you. Keep doin' your thang.