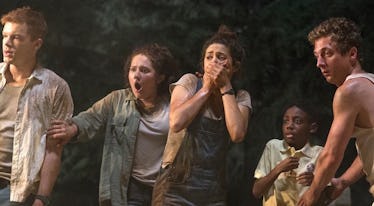 'Shameless' Revealed It's Season 9 Premiere Date In A Touching Video For The Fans
Showtime
Great news for Shameless fans: The series is returning earlier than ever this year! Showtime just announced when the dysfunctional family drama will premiere its ninth season, and we only have to wait a few more months to check back in with the Gallaghers. To celebrate Shameless' return, Showtime uploaded a montage of some of the most memorable moments from the past eight seasons, and stars Emmy Rossum and Shanola Hampton narrated their appreciation for the fans. So, when does Shameless Season 9 premiere? It's coming very soon.
The new video reveals a bunch of heartwarming behind-the-scenes moments between the cast and crew of Shameless throughout the last seven years, along with some of the most iconic scenes of the series. Over the montage, Emmy Rossum (Fiona Gallagher) and Shanola Hampton (Veronica "V" Fisher) talk about their experience getting cast, working together, and entering the ninth season of the Shameless, which is now the longest running original scripted series in Showtime history. The two stars also thank the fans for their continued support for the series, and end the video by revealing when Season 9 will be premiering on Showtime: Sunday, Sept. 9, 2018 at 9:00 p.m. ET. That is a significantly earlier premiere date than some fans were expecting, considering the previous two seasons premiered in November and October.
Check out the full Shameless Season 9 premiere date announcement video below:
After eight seasons, fans have now watched the Gallagher family go through pretty much everything imaginable, it feels like, so what could Season 9 have in store? Well, to try to figure that out, it will be helpful to go over where we left off with everyone at the end of Shameless Season 8. Oh, and here's your official spoiler alert: Don't keep reading if you are not caught up on Shameless.
OK, so Season 8 of Shameless wrapped up at the end of January this year, and it left the Gallaghers in very different places than where they started off. Fiona's main struggle throughout the season was trying to learn the ropes as a landlord of an apartment building. She hit a major rough patch when a family of squatters took over one of the apartments and threatened to file a multi-million dollar lawsuit if Fiona kicked them out. Although she had been trying to distance herself from her family's sleazy, illicit ways, in the finale, Fiona finally decides to embrace her Gallagher-ness and throw smoke bombs into the room, getting the family to agree to a settlement. With a newfound confidence in her skills, we can expect Fiona to grow her real estate empire in Season 9
Debbie is still going to school to become a welder, even burning off her broken toes in order to save money to keep paying tuition. In the finale, she reunites with her baby's father Derek and contemplates accepting his offer of joint custody in order to get childcare payments. Lip is also dealing with relationship changes. After sobering up for the first time in his life, Lip breaks up with Sierra in search of clarity, and ends up looking after one of his coworkers' young niece in the finale. Not much changes for Frank, though — he spent much of the season scamming and grifting as he always does.
The two characters that are out of the Gallagher house at the end of Season 8 are Carl and Ian. After recklessly marrying an incredibly possessive girl named Kassidi, Carl has to sneak off in order to return to military school, with his wife screaming at him from outside the bus. Ian is in even hotter water after amassing a following as Gay Jesus, a political activist who saves young queer kids from intolerant parents and organizations. During his final political stunt, the cops arrest Ian and all his followers, and the last thing we see is Ian's face of worry as he heads off to prison.
We will find out what happens next with the Gallaghers when Season 9 of Shameless premieres on Sunday, Sept. 9, 2018 on Showtime.