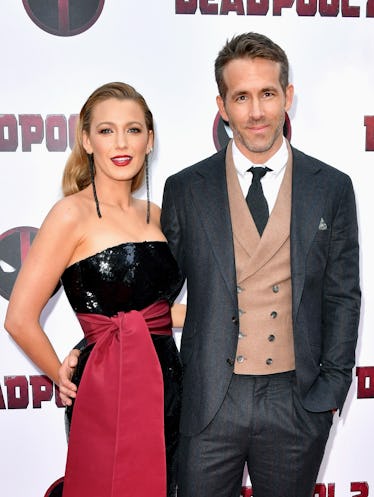 Ryan Reynolds Just Joked About Blake Lively Divorcing Him & I'm Not Remotely Amused
Michael Loccisano/Getty Images Entertainment/Getty Images
How much do I love Ryan Reynolds and Blake Lively? Let me count the ways. And, spoiler alert, we're going to be counting for days, because these two are the epitome of marriage goals (and not just in the celebrity world, either). The mere THOUGHT of these two splitting up is enough to make me consider packing a small bag, moving out to the countryside, and never speaking to anyone again. (I'm overdramatic, OK? Don't @ me.) But we have nothing to worry about with these two, right?! RIGHT??? While we know these two are all for joking around and trolling each other on social media, Ryan Reynolds' comments about Blake Lively divorcing him are simply too much for my jaded little heart to handle — even if it is just his way of using sarcasm.
Read the room, Ryan. We're not having it.
And do you want to know why we're not having it? It's because we live in a world where cherished celeb couples break up and crush the souls of all of their fans without any warning. So let's just say that perhaps we've become a bit... sensitive in regards to matters of celebrity divorces and separations, even if it is said in a playful, jovial manner. So at San Diego's Comic-Con this past weekend, when Ryan Reynolds made an unsavory joke about wife Blake Lively leaving him, it was hard not to take it very, very personally.
According to E! News, Reynolds was on a panel promoting Deadpool 2's digital and Blu-ray release when he said the not-so-funny joke. Reynolds said:
My wife's been shooting a film overseas so I've been having a ton of time to pretend like I'm watching the kids. She's probably filing [divorce] papers as we speak.
Ryan. Ryan. RYAN.
Do you see us laughing? Do you see us thinking this little "joke" of yours is wildly hilarious? DO YOU THINK WE JUST DON'T CARE ABOUT THE SANCTITY OF YOUR MARRIAGE?
We love Ryan Reynolds and Blake Lively. We love the fact that they've been married since 2012, and are proud parents of two beautiful daughters, James and Inez. This family is sacred, this family is important to society, and this family must be protected at all costs.
So, look. Let this couple roast the hell out of each other on social media. That's fine! That's funny! But do not — I repeat, RYAN, DO NOT — joke about you and Blake Lively splitting up. I will simply not have it.
Hopefully, Reynolds will understand that joking about divorce is a no-no, and he'll just go back to responding to rumors about splitting up with Blake Lively in a hilarious fashion, like he did back in April, when Yahoo Entertainment posted a tweet stating:
Ryan Reynolds (@vancityreynolds) joins Blake Lively and his mom on red carpet after shutting down split rumors
Reynolds trolled the outlet by instead pretending to assume they meant that he was splitting up with his mother, rather than with Lively:
We're never splitting. She'll always be my mom. No matter how much jazz-cabbage she smokes with her rollerblading friends
You see, Ryan? We applaud jokes like this, where there is a ZERO PERCENT CHANCE that things can be misconstrued. Because we want to see more of this in our future:
And this:
And, of course, this:
So don't you ever, ever, EVER joke about this again. Consider this your final warning.