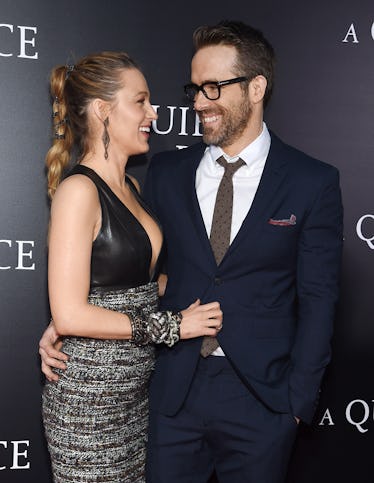 The Story Of How Blake Lively & Ryan Reynolds Met Is The Perfect Plot For A Rom-Com
Jamie McCarthy/Getty Images Entertainment/Getty Images
Spotted: An insanely gorgeous power couple who loves to troll each other on social media, and are actually so freaking good at it that I'm legit jealous. I'm talking about Blake Lively and Ryan Reynolds, obvi, because these two are just so talented and hilarious that I live for their relationship. No joke, they are probably the happiest, most perfect duo I have ever seen, and I need to know how they got this way. Was it love at first sight? 'Til death do we part at first joke? Seriously, how did Blake Lively and Ryan Reynolds meet? I need answers, and I need them now!
Turns out, the couple's "how we met" story sounds more than a little like a lost episode of Gossip Girl. In 2010, the two played love interests in the movie the Green Lantern. But like in any good romantic comedy, they were both with other people at the time. Blake was dating her GG costar Penn Badgley (a.k.a. "Lonely Boy," a.k.a. Dan Humphrey) and Ryan was married to actress Scarlett Johansson. Still, the pair became good friends — so much so, in fact, that a year later when Blake was single and Ryan had just finalized his divorce from ScarJo, they decided to go out on a double date together, only with other people!
"We were buddies then," Ryan told Entertainment Weekly's SiriusXM show. "I remember it was funny because for about a year after Green Lantern had come and gone and we were both single. We went on a double date. She was on a date with another guy and I was on a date with another girl."
Why, oh why did someone not turn this tricky little excursion into a scene in a movie? Or an entire movie, for that matter. Because I would totally watch it and I bet you would, too.
"That was the most awkward date because we were just like fireworks coming across," Reynolds continued. "It was weird at first but we were buddies for a long time. I think it's the best way to have a relationship is to start as friends."
Friends that end up with fireworks — I dig it! And it looks like these two were onto something, because they ended up getting married about a year later in September 2012, with a surprise wedding at Boone Hall Plantation in Mount Pleasant, South Carolina. Lively later gushed about her new husband in the October 2012 issue of Allure.
"Right now, I'm so peaceful," she said. "I've never been happier in my life."
And I've never been more insanely jelly. Of course, because these two are just so perfect, rumors tend to surface from time to time that they may be headed for splitsville, in which case I'm pretty much abandoning all hope that love is real. Luckily, it's all just been hearsay, so far. Reynolds wasted no time shutting down the most recent spell of gossip, which began to circulate shortly after Channing Tatum and Jenna Dewan Tatum decided to officially call it quits.
First, Yahoo Entertainment referenced the speculation about the pair's rocky marriage in a tweet that featured the following picture of the Deadpool star with his wife and his mom. And, like, way to work that Burberry scarf, Mrs. R!
"Ryan Reynolds (@vancityreynolds) joins Blake Lively and his mom on red carpet after shutting down split rumors," the tweet read. Kind of passive aggressive, dontcha think? Reynolds probably did, since he then clapped back with this hilarious response:
"We're never splitting. She'll always be my mom," he tweeted. "No matter how much jazz-cabbage she smokes with her rollerblading friends."
Well done, sir! Meanwhile, Blake and Ryan shippers are so protective of the couple, that they are now rolling up on Twitter to show them all the love.
Same.