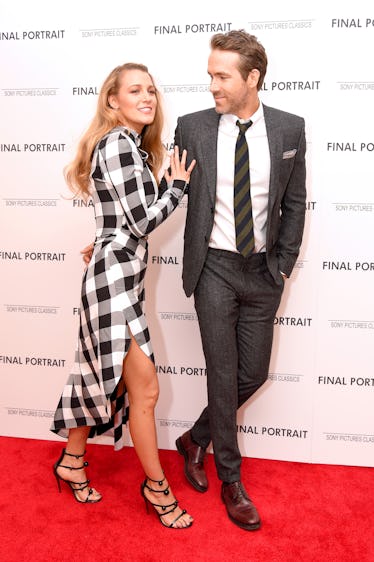 Blake Lively Trolled Ryan Reynolds On Instagram Again & I'm Living For This Couple
Michael Loccisano/Getty Images Entertainment/Getty Images
You know them. You love them. They're the suspiciously perfect and mysteriously beautiful couple, Blake Lively and Ryan Reynolds. Ever since Reynolds first gave Lively that gorgeous oval engagement ring (you know the one), fans have been dying to learn the secret behind this seemingly impossibly happy couple. The truth is, they might just be as wonderful IRL as they seem. We know they love to troll on one another on social media — it's part of what makes them so fun! — and Blake Lively's latest Instagram caption about Ryan Reynolds will make you love them more, if that's even possible.
One of this couples' favorite games to play is to sarcastically downplay the other's achievements and/or pretend to be dismissive of their love for each another. In Lively's latest gram, she did just that. The two were out at a red carpet event celebrating the premiere of their friends' John Krasinski and Emily Blunt's new film, A Quiet Place, when someone snapped a swoon-worthy picture. In the image, Lively is lovingly smiling at Reynolds with her hand on his chest and he is looking back at her with equal delight. Also, Lively has a seriously sick hairdo. (Foreshadowing!)
Even though the picture screams "We're in love!," Lively instead captioned the photo, "If there's one thing I'm infinitely proud of in this picture, it's the incredible hair styling that I did on myself."
Burn! Also, love!
Not one to miss an opportunity, Reynolds commented on the sweet pic, "I was so happy back then."
This playful banter is a true staple of Reynolds' and Lively's marriage and somehow never gets old.
One of my favorite moves of all time is when Lively cropped her hubby out of a picture with the world's other most-famous Ryan (Gosling, obviously) and captioned that photo, "Happy Birthday, baby." However, that was only after Reynold's pulled a similar move on her birthday and cropped Blake out of a picture with him. It's a simple joke, but man does it pay off.
Recently, Lively and Reynolds' marital bliss was taking a hit in the press when Reynolds decided he would set the record straight. IBTimes India tweeted that he and Lively were struggling to spend "quality time" together. If, for some reason, you guys believed this headline, Reynolds jumped in to clear the air. Of course, instead of responding with a sincere update on the happiness he and Lively share, Reynolds took the opportunity to drop yet another carefully crafted joke.
He retweeted the headline with the caption, "I wish. I could use a little 'me time.'"
One Twitter user summed up Reynolds' and Lively's relationship perfectly by commenting on his tweet, "Honestly... you guys are great and the perfect mix of sarcastic and serious! I wish that someday my boyfriend and I have the same relationship as you two. You guys are a perfect example of a loving relationship."
#Same. #Agreed. #Yes.
Look, the truth is we all know these two can get away with ragging on each other so hard because their love is so obviously real. In a brief moment of sincerity, Reynolds admitted to David Letterman on The Late Show,
I'm not one for vomiting declarations of sentiment out across the airwaves, but when we had that baby, I fell more in love with my wife than I'd ever been in my entire life. I couldn't even believe it.
Watch. Cry. Feel.
All's well that ends with an insult, I guess. Loving you from afar, Blake and Ryan.
Check out the entire Gen Why series and other videos on Facebook and the Bustle app across Apple TV, Roku, and Amazon Fire TV.