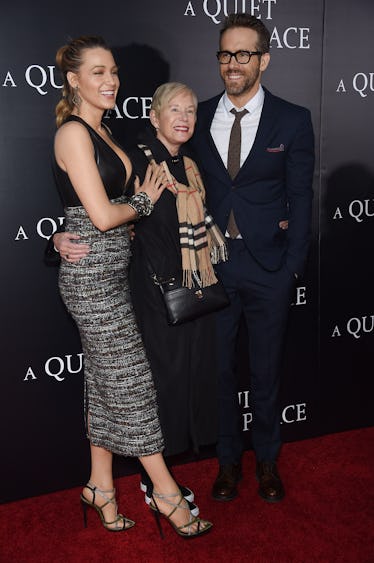 Ryan Reynolds Had The Best Response To Rumors Of Him & Blake Lively Splitting Up
Jamie McCarthy/Getty Images Entertainment/Getty Images
Celebrities are great at a lot of things. Winning awards? Check! Miraculously pulling off out-of-this-world designer outfits that would make an ordinary civilian look like a lunatic? Duh. Convincing teens in the early 2000s that Proactiv was the answer to all of their acne woes? You betcha! Despite all of their many strengths, not all celebs are really known for having lasting marriages. The worst part is, before a celebrity couple even manages to file for divorce, they're inundated with rumors about their impending split. Usually, these rumors go unaddressed. But Ryan Reynolds' response to Blake Lively split rumors — for the second time — proves that celebrities may finally be ready to clap back.
For those who haven't been keeping up with ~Hollywood~ gossip lately, something pretty freaking devastating happened a few days ago: One of our favorite and most seemingly stable couples, Channing Tatum and Jenna Dewan, announced that they were splitting. The pair shared the horrible news in a heart-wrenching social media announcement, which stated:
We have lovingly chosen to separate as a couple. We fell deeply in love so many years ago and have had a magical journey together. Absolutely nothing has changed about how much we love one another, but love is a beautiful adventure that is taking us on different paths for now. There are no secrets nor salacious events at the root of our decision — just two best-friends realizing it's time to take some space and help each other live the most joyous, fulfilled lives as possible. We are still a family and will always be loving dedicated parents to Everly. We won't be commenting beyond this, and we thank you all in advance for respecting our family's privacy.
With Channing and Jenna officially over, we mere mortals are left with limited options for proof that love really does exist. In fact, the last remaining Hollywood couple to give us any small semblance of hope seems to Blake Lively and Ryan Reynolds. And now, their relationship has come under attack.
Needless to say, we're all a little ~shook~ from the Channing and Jenna news. As a result, some publications have grown skeptical of other adorable Hollywood couples like Ryan and Blake. But Ryan is having none of that. In fact, he took to Twitter with his signature weird humor to highlight how ridiculous the rumors really are.
It all started when Yahoo Entertainment posted a tweet stating:
Ryan Reynolds (@vancityreynolds) joins Blake Lively and his mom on red carpet after shutting down split rumors
Ryan wasn't about to sit back and let rumors run wild, so he decided to respond with his own hilarious take on the situation, focusing on his mom rather than Blake:
We're never splitting. She'll always be my mom. No matter how much jazz-cabbage she smokes with her rollerblading friends.
This isn't the first time Ryan has taken to Twitter to respond to rumors about his marriage. A few weeks ago, one publication tweeted, "Deadpool Ryan Reynolds and wife Blake Lively struggling to spend 'quality time'."
Again, Ryan was having none of this dumb rumor and quickly decided to shut it down with another hilarious tweet: "I wish. I could use a little 'me time.'"
LOL, RYAN, YOU SLAY ME.
So, yes, unfortunately Channing and Jenna really are over, but at least we can all rest assured that Blake and Ryan are still together and as hilarious as ever. Don't listen to the rumors. As Ryan's tweets make abundantly clear, he's going to stay with Blake, and his mom? Well, she's going to keep smoking jazz-cabbage with her rollerblading friends.
Check out the entire Gen Why series and other videos on Facebook and the Bustle app across Apple TV, Roku, and Amazon Fire TV.
Check out the "Best of Elite Daily" stream in the Bustle App for more stories just like this!