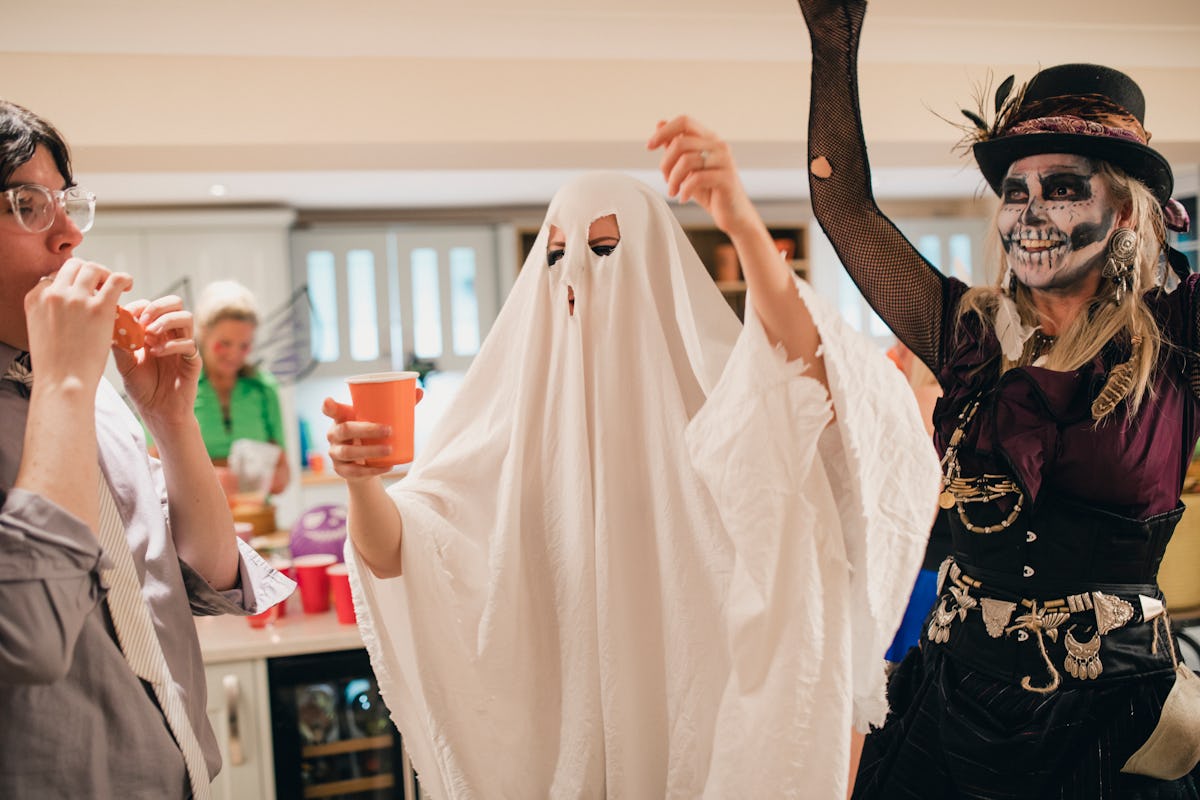 35 Ghost Puns For Captions When You're Just Here For The Boos On Halloween
All Hallows' Eve is right around the corner, and according to everyone's favorite movie of the season, Hocus Pocus, "It's the one night of the year where the spirits of the dead can return to Earth." Whether you believe in ghosts stories, you have to admit that seeing all of the Halloween decor this time of year truly gets you in the spirit of things. So, for every seance with your crew of basic witches and every spooky costume you have planned, you'll want to keep around some ghost puns for Instagram captions.
Whenever I'm scared, I just need something funny to make me laugh, and that's exactly what these puns will do for you. Though, if you're like the Ghostbusters and you "ain't afraid of no ghosts," you embrace the unknown, and probably have a few otherworldly plans this season. You and your ghoulfriends might have tickets for a haunted graveyard tour, or perhaps you have plans to drive through a haunted Halloween experience.
Whatever your plans may be, when you're about to post a spooky snap to the 'Gram, there's no need to call in the spirits on this one. I've assembled you a list of 35 ghost puns to use when you're in need of a truly haunting caption.
1. "I'm just here for the boos."
2. "'Cause my body too bootylicious for ya babe." — Destiny's Child "Bootylicious"
3. "If you've got it, haunt it." — Rose Pressey
4. "Next to you, in Mali-boo." — Punny take on Miley Cyrus' "Malibu"
5. "I feel boo-tiful."
6. "This is boo sheet."
7. "Won't you be my boo?"
8. "There's been some purranormal cativity."
9. "Hi boo. Bye boo."
10. "I'm bad and boo-gie."
11. "My favorite kind of pie is boo-berry."
12. "Came for the party, stayed for the boos."
13. "I've got school spirit."
14. "We've come to a dead end."
15. "Hanging with my ghoulfriends."
16. "Squad ghouls."
17. "Haunting my exes."
18. "Ghouls just wanna have fun."
19. "Eat, drink, and be scary."
20. "I can see right through you."
21. "Ghouls rule, ghouls drool."
22. "Sheet happens."
23. "I don't know what I'm booing."
24. "Don't make me ghost you."
25. "You've been ghosted."
26. "Peek-a-boo!"
27. "More boos, please."
28. "Don't spook until you're spoken to."
29. "#Ghosted."
30. "Wishing you a spooktacular Halloween."
31. "You will always be my boo." — Usher and Alicia Keys, "My Boo"
32. "Getting in the spirit."
33. "I'm studying eekonomics."
34. "Whoooooo ghost there?"
35. "All these ghosts, and I still can't find a boo."
This article was originally published on