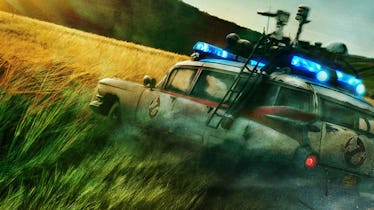 5 'Ghostbusters: Afterlife' Trailer Details You Definitely Missed
Sony
The Ghostbusters franchise has been trying to make a third film in the franchise for nearly 30 years, ever since Ghostbusters II. A remake of the story with an all-female cast failed to light up the box office, but that hasn't stopped the franchise from trying again. This time, the story is being rebooted for a new generation, in a new location. These Ghostbusters: Afterlife trailer details reveal where the show has decided to take the story.
The most significant decision is to move the whole story out of NYC altogether. There's no more fire station headquarters, no more New York mayor, no slimed-up subways, or millions of innocent bystanders.
Instead, the story has moved, bag and baggage, to a town called Sommerville, Oklahoma. The family, headed up by mom Callie (Carrie Coon), brings son Trevor (Finn Wolfhard) and daughter Phoebe (Mckenna Grace) to the middle of nowhere, to live in a ramshackle farm left to them by granddad.
But this is no ordinary farm, and Sommerville is no regular town.
And Grandpa? Well, that might feel a little weird for the older fans of the franchise, but as the trailer makes clear, he was one of the original Ghostbusters.