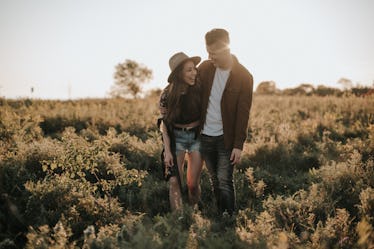 33 John Mayer Lyrics For Summer Pics With Your SO That You'll Be So Sweet On
Everything is just a bit sweeter in the summer. The sun is out, the days are longer, and we're falling in love with it all. We've seen enough romantic comedies to know that some of our favorite love stories take place by the ocean, or happen unexpectedly during a trip that was meant to be solo. There's always some kind of scene where they're splashing around in the waves, and calling up their friends who are saying, "Tell me more!" Sound familiar? We already have our sights set on beach days and bonfires that end in too many s'mores. We'll be taking all sorts of pictures to make it last forever, and these John Mayer lyrics, in particular, will be perfect for the ones with your SO.
The sea might be salty, but you're seriously feeling oh-so-sweet. You've somehow fallen head over heels, and can't wait for all the adventures to come. Together you can spend your summer nights under the stars and do some stargazing, or maybe you'll take a road trip to a place you've never been before. You two have quite the bucket list going, and splurging on that tropical island vacation is something you've been daydreaming about since you started dating. A villa on an island Spain? Yes, please!
When you're this deep in love, life kind of feels like one of those movies. You have your favorite songs playing in the background of all your memories, and a playlist that would make for a pretty good soundtrack for your young love story. Maybe there's at least a couple of John Mayer tracks on there. After all, he has a way of speaking to our hopeless romantic souls with every new album. We find ourselves falling in love with the weekend, as well.
So, before you soak up all the sweetest vibes and sunshine this summer with your significant other, scope out at least one lyric amongst these 33 that will go perfectly with that picture making its way to social media. You'll be where the light is, and want to share it with the world.
1. "Baby, you're the only light I ever saw." — "Slow Dancing In A Burning Room"
2. "Something 'bout the way the hair falls in your face, I love the shape you take when crawling towards the pillowcase." — "Your Body Is A Wonderland"
3. "Pain throws your heart to the ground. Love turns the whole thing around." — "The Heart Of Life"
4. "I was the one you always dreamed of. You were the one I tried to draw." — "Slow Dancing In A Burning Room"
5. "Then you come crashing in, like the realest thing. Trying my best to understand all that your love can bring." —"Half Of My Heart"
6. "Giving my life to a rainbow like you." — "Bold As Love"
7. "If I'm forced to find another, I hope she looks like you." — "I'm Gonna Find Another You"
8. "You and me been catching on like a wildfire." — "Wildfire"
9. "She comes and goes like no one knows." — "Neon"
10. "I tell everyone, I smile just because I've got a city love." — "City Love"
11. "And if you want love, we'll make it. Swim in a deep sea of blankets." — "Your Body Is A Wonderland"
12. "The prettiest girl in the room, she wants me. I know because she told me so." — "Still Feel Like Your Man"
13. "'Cause a little bit of summer's what the whole year's all about." — "Wildfire"
14. "Love is a verb. It ain't a thing. It's not something you own. It's not something you scream." — "Love Is A Verb"
15. "Hold on to whatever you find baby. I don't trust myself with loving you." — "I Don't Trust Myself (With Loving You)"
16. "Once in a while when it's good, it'll feel like it should." — "Stop This Train"
17. "Sure was fun being good to you." — "Paper Doll"
18. "Lonely was the song I sang, 'til the day you came. Showing me another way and all that my love can bring." — "Half Of My Heart"
19. "I don't remember you looking any better." — "Who Says"
20. "You look so good it hurts sometimes." — "Your Body Is A Wonderland"
21. "I know the heart of life is good." — "Heart Of Life"
22. "And if those angel wings don't fly, someone's gonna paint you another sky." — "Paper Doll"
23. "Anything less than 'I love you' is lying." — "Friends, Lovers Or Nothing"
24. "You love who you love." — "Who You Love"
25. "You look fine, fine, fine. Put your feet up next to mine. We can watch that water line." — "Wildfire"
26. "We have the feeling like we were floating. We never noticed where time was going." — "On The Way Home"
27. "It's a Friday, we finally made it. I can't believe I get to see your face." — "Love On The Weekend"
28. "But you should see him when he shines. 'Cause you never wanna let that feeling go." — "Who You Love"
29. "I want you, baby, like you can't understand." — "Love On The Weekend"
30. "Still like the letters in your name and how they feel, babe." — "Still Feel Like Your Man"
31. "Life is full of sweet mistakes. And love's an honest one to make." — "You're Gonna Live Forever In Me"
32. "And I'll be dreamin' of the next time we can goInto another serotonin overflow." — "Love On The Weekend"
33. "Parts of me were made by you. And planets keep their distance, too. The moon's got a grip on the sea." — "You're Gonna Live Forever In Me"
Seriously, you're so sweet on summer and your significant other. Your followers won't blame you if you just can't get enough of living a life full of love. Truth is, you care about your relationship so much, and just want to bring the best vibes to those beach days. Make those moments last forever, and share a picture on your feed.