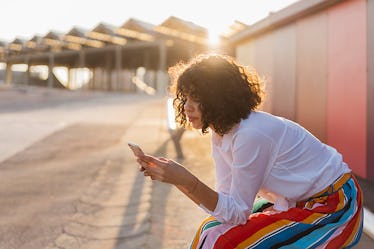 If You're Not A Fan Of Dating Apps, You're Probably One Of These 3 Zodiac Signs
Everyone dates in their own way, and using dating apps is no different. While your bestie may be all about swiping right, you may prefer to chat up cuties at a bar or flirt via Instagram DM. As long as everything that goes down is 100 percent consensual, there is no right or wrong way to meet people. But have you considered you might be one of the zodiac signs who just don't like dating apps? According to Natalia Benson, women's empowerment coach, astrologer, and modern mystic, there are certain zodiac signs who would rather steer clear of digital connections and find love IRL.
In today's dating world, sometimes it may seem like if you aren't particularly keen on the idea of online dating, then you're going to struggle finding people to date. Everyone's on at least one dating app, right? Right?!
Wrong, honestly. Dating apps aren't for everyone! If you've tried the whole swipe thing and you're just not feeling it, that's totally fine. Contrary to what pop culture might have you believe, there are other ways to meet people. If you thrive in (and prefer) face-to-face situations, you may be one of the three zodiac signs who look at online dating and think, "Thank u, next."