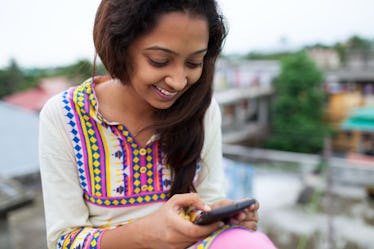 Here Is The Dating App You Should Swipe Right On, Based On Your Zodiac Sign
Are you new to the dating app game and not sure where to start? Or are you a veteran swiper who just isn't seeing the results you desire from all that finger labor? Either way, what you need to know to make sure you're getting the most out of your online dating experience is which of the many, many, many dating apps is the right one for you. One way to figure that out is by knowing which dating app you should try based on your zodiac. That's because, like so many things, dating app compatibility comes down to your personality. For instance, which app interface is best suited to your personality? One that gives you seemingly endless potential matches to peruse through, or one that will do most of the matching work for you? It also matters what kind of relationship (or non-relationship, for that matter) you're looking for. Depending on your goals, the vibe of the app is going to attract more like-minded people and improve your chances of romantic success — however you personally define that right now.
By considering your sign, by element, and what is most compatible with your personality type, it can help point you in the direction of the app that's the best fit for your goals and dating style, too. With that in mind, here is the dating app you should download today.