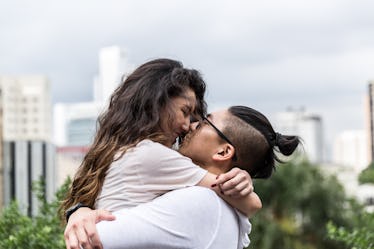 3 Zodiac Signs To Date If You're Looking For Unconditional Love
Shutterstock
After another disappointing hookup, you mindlessly scroll through your phone, contemplating deleting your Tinder profile again. From awkward texting to picking out outfits, casual dating can be tiring. You're exhausted from "sewing your oats" (whatever that even means), and you're ready to find something real with a person that you know cares about you. Do you dare say it? You're looking for a serious, long-term, monogamous relationship. If you're ready for someone to really go the distance with, knowing the zodiac signs to date if you're looking for unconditional love can be a good place to start.
While every relationship looks different, it can be important to know that your partner has your back. Whether you need some emotional support through a hard time at work or school or you're looking to really build a life with someone, knowing that your boo is there for you can make all the difference. No matter your sign, long-term partnerships demand communication and transparency.
From helping you work through conflict to giving you space to be yourself, when these three signs fall in love, they do so with their whole heart. Here are the three zodiac signs that love their partners, no matter what.