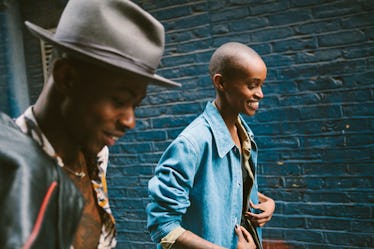 Here's How To Tell If You're A Rebound For Your Date, According To A Matchmaker
As you hop into the game called dating, not every Tinder match or meet-cute(-enough) is going to make it to the championships. Whether you're looking for something serious or casual, one challenge you might run into is how to tell if you're a rebound for a date. Going out with someone just to get over someone else is a common part of the breakup cycle: You shoot for the free throw, miss, and redirect to a rebound. Of course, the number one sign that you're date is in rebound mode is how they talk about their ex.
Susan Trombetti, matchmaker and CEO of Exclusive Matchmaking, said there are some other clues to look out for. If your date very recently broke up with their SO and seems to be dating "everybody and anybody," then there's a good chance you're being bounced into rebound territory.
Still, no two post-breakup plays look alike. Pricilla Martinez, a member of the women-focused online life coaching team Blush, says your date's emotions can be a giveaway. "Rebounding can mean that your partner can have lingering feelings for a former flame — that can be positive, negative or both," Martinez says.
Here's the playbook for what you'll notice if your date is on the rebound.