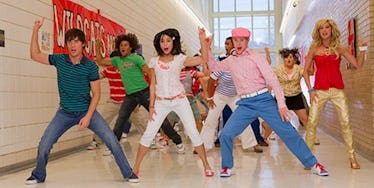 Attention Wildcats: Original 'High School Musical' Director Is Interested In 'HSM4'
Disney/YouTube
Well, well, well, it looks like Troy Bolton wasn't lying when he said "Once a wildcat, always a wildcat." If you're a good '00s kid, then by now you should know that High School Musical 4 is 100 percent happening. (I know, I can barely contain my excitement either.) What's even better than that news, though, is the news that the original HSM director, Kenny Ortega, is interested in being a part of High School Musical 4. 
That's right, the legendary director helped to shape the franchise from the moment Troy and Gabriella met on that New Year's Eve cruise ship all the way up until they graduated from East High, and he is responsible for some seriously iconic dance numbers. Lucky for us, now it looks like he's willing to work with a whole new cast of Wildcats. People's Choice caught up with Ortega ahead of the premiere of his new movie Descendants 2, where they asked him whether or not he would direct HSM4. He told them,
I would like to be a part of it in any way that I can. I had the time of my life it started a whole new career for me. If High School Musical 4 worked out with my schedule and Gary [Marsh] and the team request my involvement, I would be very, very open to it.
Yes. This is exactly the kinda loyalty I'd expect from the leader of the Wildcat pack. Sadly, most of the other major players decided to go their own ways (*winks*) this time around. Vanessa Hudgens pretty much said she would not come back for a fourth film, and we all know how busy Zac Efron (read: Troy Bolton) is these days.
Though it would be nice to see some surprise cameos from our faves so we can see what the original characters are up to these days (I hope Sharpay has a Tony by now), I'm sure High School Musical 4 won't need them to be amazing and fun, and to inspire a whole new generation of Wildcats to be themselves. Until its release, I'll be waiting here listening to the first three soundtracks, you can bet on that.