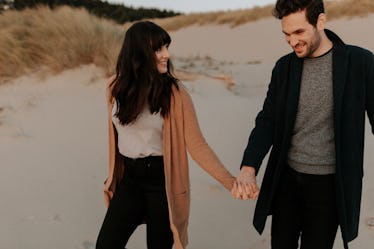 If You Notice These 4 Things, Your Date Is Still Getting Over A Breakup, Experts Say
If you've ever gone a date with someone who was still hooked on a recent ex, there's a good chance you'll be able to tell. That's because the things you'll notice if your date's getting over a breakup aren't exactly subtle. For example, I once went on a date with someone who clearly had his mind on his previous partner, and I knew it because for every single topic, he steered back to talking about his ex. I finally said, "I think you're on a date with the wrong person. You should probably be saying all of these things to them." He agreed, leapt up, and ran off into the night on what I can only assume he thought would be a rom-com style, grand romantic gesture. To be honest, by that point I was relieved to see him go. However, sadly for my date, his big declaration moment apparently didn't go as planned because about a week later he texted me to see if I wanted to go on a second date.
I did not.
Chances are, if you're dating someone who's still getting over their ex, there are ways to know what's really on their mind. I spoke to several experts about what to look out for if you think your date fit that bill, and here's what they say to be on the lookout for.