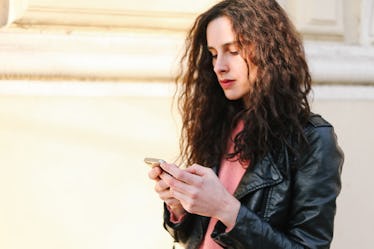 3 Things You'll Notice If Your Date Is About To Ghost Like Casper
Now you see me, now you… are left on read for eternity. If there's one dating phenomenon we're all familiar with in the 21st century, it's ghosting. One minute, you're gushing to your BFF about your new prospective bae-to-be, making weekend plans, and giddily crafting flirty texts. The next, you're second-guessing your use of emojis in that last message because your date is MIA ("Why did I use so many drooling faces? WTF was I thinking?"). As you curse your over-eager use of exclamation points, you wonder: Is your date about to ghost?
The reality is, ghosting can be a cruel inevitability in today's dating environment. Given that much of our communication happens via our phones (texting, dating app messaging, social media, etc.), it's easier than ever to take the cowardly route and simply ignore all contact.
"There is a respectful way to reject someone — but when the rejection comes in the form of ghosting, it's painful," relationship and etiquette expert April Masini tells Elite Daily. "The person ghosting you gives the impression that you are not worth the time or effort to reject properly or respectfully."
But what if you could see it coming? What if you could detect that your date was about to ghost you before it happens, so you could decide if you want to end things yourself, or at least prepare yourself for the disappointment and other emotional fallout? Fortunately, there are signs that someone's gearing up to ghost you, according to Masini. Look out for these red flags that your date is about to pull the disappearing act.