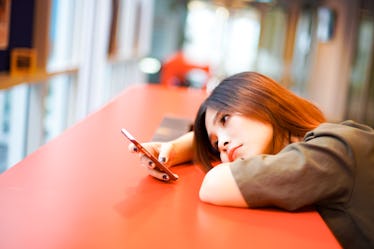 3 Personality Types Who Can't Stop, Won't Stop Drunk Texting Their Exes
Shutterstock
Here's the thing about texting your ex. While under normal circumstances, you might not be inclined to do it, it's a whole different ball game once you have a few adult bevvies in your system. After all, alcohol is known for lowering your inhibitions and self-awareness, thus encouraging you to take risks you may not normally take. Sure, some people seem to still have an inhuman level of self-control while under the influence (looking at you, ISTJs). But then there are the Myers-Briggs personality types who drunk text their exes because TBH, they just can't help themselves.
So, what do these types have in common? Feelers may be more prone to this behavior because their decisions and actions are often driven by their emotions rather than logic or facts. So, they're not only more likely to start feeling particularly sentimental after a couple of sangrias, but they're probably more likely to act on those sentimental feelings. Additionally, Perceivers tend to be a tad more impulsive, and Intuitives like to rely on their gut feelings in situations, making them both more likely to hit "send" on those drunk texts to an ex.
Let's be clear: There's nothing intrinsically wrong about drunk texting an ex, unless doing so ends up being detrimental to your emotional well-being. It's pretty common to give in to the temptation of reaching out to a former flame after you've had a few, and these three Myers-Briggs personality types have definitely been there, done that.