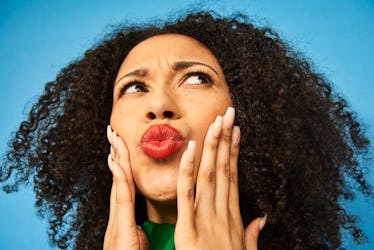 3 Personality Types Who Are Smooth Talkers On Dating Apps, So Look Out
There's something magical about those effortless first interactions with a dating app match, when they seem to say all the right things and ask the perfect questions to propel the convo forward. You haven't even met them IRL yet, but it's as if they just get you. Whether you know it or not, there are certain Myers-Briggs personality types who are smooth talkers. And obviously, this quality gives them a major advantage on dating apps.
Let's break it down by individual traits. The Thinking/Feeling and Judging/Perceiving preferences don't seem to have a significant weight in terms of someone's digital conversation skills. And although Extroverts may occasionally have a leg-up when it comes to flirting in real-life social situations, app interactions are different, they arguably come with less pressure for Introverts, allowing them to flirt up a storm. On the other hand, Intuitives tend to be a tad more talkative than Sensors, and that verbal prowess obviously come in handy when striking up a convo with a match. For example, ENFJs and ENTJs are known for their off-the-chart communication skills due to their Extroverted Intuitive function, which allows them to read people super well. Similarly, ENFPs have a knack for listening and making someone feel heard, understood, and special.
With all of that in mind, take note — because these personality types have some serious game when it comes to chatting up a storm on dating apps.