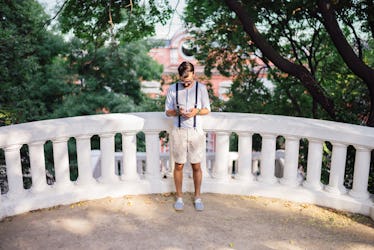 5 Sneaky Ways To Tell If Someone Likes You By The Way They Text You
The dating conundrum that never seems to have a straight answer: Do they actually like me? We all know what it's like to spend hours ruminating over whether or not the person you're into likes you back, and once you start texting, seeking a definitive answer to this question feels more pressing than ever. Knowing how to tell if their texts mean something might not actually be as hard as you think. And while plenty of people play games to throw you off the trail of how they're really feeling, these types of people typically turn out not to be the best partners, if they can even manage to drop the act long enough for a relationship to actually develop. My advice is to stick to people that don't take a week to respond to a simple, "Hey there! How's it going?" text.
Usually, when someone has genuine interest in you, there's a pretty good chance that their texting behavior might just give them away. It's totally natural for some level of push-and-pull to be expected, so there's nothing wrong with messaging them organically when they cross your mind — especially if they have been the one to reach out to you the last couple of times. In the meantime, keep an eye out for these five texting behaviors that could mean they are totally into you.