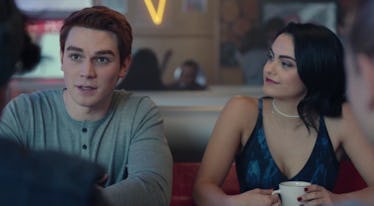 3 Archie & Veronica 'Riverdale' Costumes To Wear With Your S.O. This Halloween
Now that we're officially into the month of October, there are two things to look forward to: 1) the return of Riverdale for its second season, and 2) Halloween, of course. As both quickly approach, now is the time to start thinking about how to create the best Archie and Veronica couples costume for this year's festivities. Indeed, "Varchie" has a few classic looks from Season 1, but no matter which look decide to go with, you're guaranteed to turn heads and be frontrunners in any costume contest you enter.
Of course, with such an exciting (read: exhausting) year in pop culture, there are plenty of options for creative, unique costumes this Halloween. You can go as your fave Game of Thrones character, or as pregnant Beyoncé; there are some great DIY Wonder Woman costumes out there, and some hilarious "old" Taylor Swift ideas, too. As cool as any of those costumes would be, though, none of them compare to a classic Veronica and Archie couples costume with your S.O. Here are just a few of the looks you can take from Riverdale to create a near-perfect and fun Varchie costume.
Classic Archie and classic Veronica
To start, there is classic Archie and classic V. This could be based on any of the outfits either of them wore during Season 1, even from from before they became "Varchie," so it's perfect for friends, too. Given that Archie and V each have a signature aesthetic, there are tons of different ways to assemble their characters' looks; this is only one suggestion.
What you'll need for Archie:
What you'll need for Veronica:
Bulldog Archie and Vixen Veronica
Next up there is Bulldog Archie and Vixen Veronica. This look from the show is iconic, recognizable, and certainly the easiest route to go if you're looking for a spot-on Archie & V look in a short amount of time; it will definitely earn you points for attention to detail, that's for sure.
What you'll need for Archie:
For added flair and detail, wrap your wrist in an ace bandage.
What you'll need for Veronica:
Sneakers (any kind will work, preferably white)
Homecoming Archie and Veronica
Finally, there is the ever adorable Homecoming Archie and Veronica. Of course, this option is more formal than the classic and sporty looks above, but if you're looking to go the extra mile, this is definitely the Riverdale costume for you.
What you'll need for Archie:
What you'll need for Veronica:
If you want to kick any of these looks up a notch and make them even more detailed, you can get yourself a wig to match either Veronica or Archie's hair.
For Archie:
For Veronica:
If you'd like to go as the whole crew this Halloween, grab two friends to go as Betty and Jughead, too. The most important thing is to have a fun and safe Halloween...and to stay away from any Southside Serpents.
Check out the entire Gen Why series and other videos on Facebook and the Bustle app across Apple TV, Roku, and Amazon Fire TV.