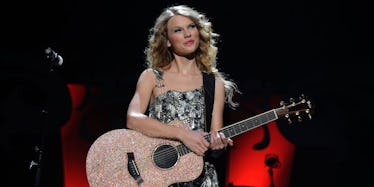 How To Pull Off "The Old Taylor" This Halloween, Because It's The Perfect Costume
Theo Wargo/Getty Images
Halloween is right around the corner, y'all. It's pumpkin spiced latte season, fall decorations are slowly starting to appear in Target, and everyone is pondering over their Halloween costumes. It's freakin' exciting! It's the most wonderful time of the year! No... it's not Christmas. So, what better way to celebrate Halloween than with a Taylor Swift costume? Well, I guess you could dress like the clown from It, but you definitely won't make any friends at any parties. Look no further, because I will be "the old Taylor" Halloween costume guru this year. Let's look back at the ending of her music video, "Look What You Made Me Do," and transform into each and every one of the old Taylors. I call dibs on Circus Ringleader Taylor! Let us begin.
1. Platinum Blonde Taylor
Platinum blonde Taylor is goth, stylish, and sexy. This look lasted one year in 2016, and honestly, we all kind of loved it. Although this Taylor didn't have a starring role in the "LWYMMD" music video, if you look closely, you will find her in the pile of Taylors. Here's how to achieve the look:
Buy a short platinum blonde wig
Buy a black glitter dress
Find high leather boots
Look serious and sensual at all times
Throw on intense lipstick
2. "Out of the Woods" Taylor
Taylor's zombie-esque corpse from her "Out of the Woods" video was the final music video release from the 1989 era. It was basically the very end of all "Old Taylors." This costume is a classic:
Cover your entire body with dirt and mud (or just use brown makeup!)
Tease your hair in the messiest sort of ways
Find a baby blue dress and splatter it with mud
Find several vines or ropes and wrap them around your body
Look distressed
3. "Shake It Off" Ballerina Taylor
Taylor Swift is an innocent white swan in her music video for "Shake It Off," although we all know she's not innocent. This look is easy to achieve, and you'll for sure be recognized as an "Old Taylor." Here's what you'll need:
A giant white tutu
A pair of white tights
White feathers for your hair
A silver tiara
A white leotard
Ballet slippers
4. Circus Ringleader Taylor
Swift wore this outstanding outfit for the 2012 Red video and throughout her Red Tour. Her red, sequined coat and top hat make this look totally Taylor. If you can find a red sequined coat, get it, girl. If not, you're going to have to make one. Here's what to do:
For the coat:
Buy a cheap black jacket at a thrift shop
Buy red, glittery sequins at a craft store
Buy super glue or a hot glue gun
Glue red sequins on the jacket in an even line, covering the entire jacket
Let the jacket dry overnight
For the rest of the costume:
Buy a top hat and cover the brim with red sequins
Buy black shorts
Wear black boots
Carry around a cane or baton
 5.  "You Belong With Me" Taylor
Remember teenage T. Swift wearing a "Junior Jewels" white T-shirt in the "You Belong With Me" video? She was covered in guys' names and now she's covered in her squad members' names. Is she making fun of herself? Definitely. Here's what to do:
Buy a white T-shirt
Write Swifty's squad names all over it
Wear your hair messy and in your face
Put on thick framed glasses (take out the lenses, unless you actually need them)
6. 2009 VMAs Taylor
Taylor Swift at the 2009 VMAs was a huge moment in history. Who could forget it? This costume is easy:
Buy a silver glitter dress
Find a fake/real microphone and carry it around
Find a silver statue that resembles a Moon Person
Look really surprised all night
7. Fearless Tour Taylor
This is where it all started. The Fearless Tour Taylor. Who wouldn't want to be this Taylor?
Here's the look:
Find a guitar and bedazzle it like a crazy person
Wear a glittery dress
Wear a curly blonde wig
Smile a lot
Happy Halloween, Swifties! This should be the best year yet!