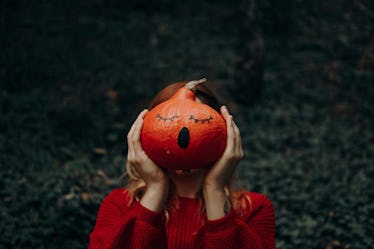 28 "Fright Night" Instagram Captions For When You're Getting Your Spook On
Girl, get your spook on. Fall means pumpkin patches and apple picking, and cotton candy and neon lights at the fair. But, it's also the season for going to haunted houses and watching Hocus Pocus every other day. It's the one time of the year when it's socially acceptable to dress up as your favorite sitcom character or a ghost, with the classic sheet thrown over your head. You get the idea, right? Well, amongst all the festivities, you'll want to make plans for the night before Halloween. I've taken care of the "Fright Night" Instagram captions. (Let's be honest: Coming up with those on your own can be spooky, too.)
Have you heard all about "Fright Night," yet? If not, then you're in desperate need of the latest scoop. Essentially, it's the night before Halloween, when you and your girls are already excited about pumpkin spice and everything nice. Together, you'll host a Halloween-themed party in your apartment, with fake cobwebs hanging from the ceiling that you bought at the craft store. The punch will be bright red, and you'll decorate pumpkins and watch your favorite scary movies until midnight.
You might also decide to go out on the town. Your crew will get ready, most likely wearing all black like all the baddest witches on the block. You'll wing your eyeliner and then check out a Halloween-themed bar, if you're 21 or over. Trying the seasonal drink will be a must, and you'll dance along to the "Monster Mash." (Whoever put this song on the queue was truly feeling festive.) During "Fright Night," you'll grab a few pictures and post them on the 'Gram. Don't forget one of these 28 captions to truly take your social media to a spooky level.
1. "Halloween is not a day. It's a lifestyle." — Unknown
2. "Bow down, witches." — Unknown
3. "What a haunt mess." — Unknown
4. "Let's creep it real." — Unknown
5. "At this point my blood type is pumpkin spice." — Unknown
6. "Just pass the pumpkin spice." — Marisa Casciano
7. "When in doubt, witch it out." — Unknown
8. "Eat, drink, and be spooky." — Unknown
9. "Oh my gourd. Can you believe it's already Halloween?" — Unknown
10. "Having a spook-tacular time." — Unknown
11. "Has anyone seen my boo?" — Unknown
12. "'Tis the season for boos and snuggling with our baes." — Unknown
13. "If you were a ghost, you'd still be my boo." — Unknown
14. "Oh look, another glorious morning. Makes me sick!" — Hocus Pocus
15. "A trick or a treat?" — Unknown
16. "Bubble, bubble, toil, and trouble." — Unknown
17. "If the broom fits, then fly it." — Unknown
18. "Hocus pocus, I need coffee to focus." — Unknown
19. "The only thing getting lit tonight is my fall scented candles." — Unknown
20. "There is magic in the night, when pumpkins glow by moonlight." — Unknown
21. "I decided to give up caffeine for Halloween. If that doesn't scare people, then I don't know what will." — Unknown
22. "Wicked never looked so cute." — Unknown
23. "Break out the sweaters and get spooky." — Unknown
24. "But I think I love Halloween most of all." — Unknown
25. "You're the cutest pumpkin in the patch." — Unknown
26. "Just a couple of basic witches." — Unknown
27. "Something wicked this way comes." — William Shakespeare
28. "You gave me a fright (night.)" — Unknown
Feeling spooky? All it takes is a few fall activities and preparing your costume for Halloween to get into the right #mood. This season, you're planning on taking hay rides and going to football games with your girls. You'll check out all the best local spots for cider donuts, and probably get lost in a corn maze. But now, "Fright Night" has given you another thing to add to that seasonal bucket list. Don't miss out on the festivities or an opportunity for a good 'Gram. It would truly spook your followers if you didn't post a picture — ya know?