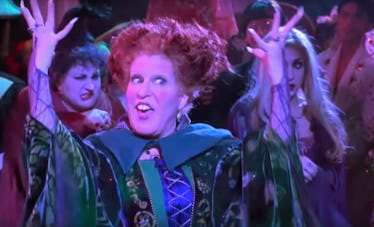 Freeform's '31 Nights Of Halloween' Schedule Is Here & It Includes A 'Hocus Pocus' Marathon
It's September now and that means it's basically Halloween. Right? Well, it is for some folks out there who absolutely relish the fall season and can't wait for All Hallows Eve to roll around. Luckily for those people, Halloween is coming early this year thanks to Freeform's 31 Nights of Halloween schedule. The yearly occasion (which got bumped up from 13 nights to a whopping 31 this year) is set to start Oct. 1 (less than a month away!) and will let fans watch their favorite Halloween flick, Hocus Pocus, pretty much every other night throughout the whole month.
If you've been a fan of Hocus Pocus for nearly your whole life like I have, then this news is super exciting. So many fans have been waiting for the world to catch up and appreciate Hocus Pocus for the good fun that it is. And now it seems that Freeform is capitalizing on its loyal fan base.
For those of you not familiar with the film (where have you been?!), Hocus Pocus follows a group of teens who explore their hometown of Salem, MA and accidentally bring three witches back from the dead. The kids spend the rest of the film trying to outrun the witches and encounter everything from zombies and fake cops to a talking black cat. There are also a couple of musical numbers and a whole lot of silly, laugh-out-loud comedy. Bette Midler, Sarah Jessica Parker, and Kathy Najimy round out the main cast. Overall, the film is hugely entertaining and definitely holds a place among Halloween classics.
Check out the trailer for Hocus Pocus:
While it's Freeform's tradition to air Halloween themed movie nights prior to Oct. 31, they've decided to switch it up this year, going from 13 Nights of Halloween to 31. So, there's a slew of creepy movies scheduled to air every single night of October culminating in a long Hocus Pocus marathon on Halloween. It's basically going to be 12 hours of Hocus Pocus nonstop, which is a dream come true for those fans who've been wanting to catch the film during the appropriate season.
Even though Hocus Pocus is taking center stage in Freeform's 31 Nights of Halloween, there are plenty of other films to look forward to as well. The Nightmare Before Christmas, The Addams Family, The Goonies, Dark Shadows, and Charlie and the Chocolate Factory are all on the schedule to air in October. So, there's a little something for everyone.
But it's Halloween night that's most likely to grab your attention. Here's what's set to air that day:
7:30am/6:30c Hocus Pocus
11am/10c Disney•Pixar's Toy Story of TERROR!
11:30am/10:30c Decorating Disney: Halloween Magic
Hocus Pocus Marathon
12:30pm/11:30c Hocus Pocus
2:40pm/1:40c Hocus Pocus
4:45pm/3:45c Hocus Pocus
6:50pm/5:50c Hocus Pocus
8:55pm/7:55c Hocus Pocus
12am/11c Hocus Pocus
As you can see, Hocus Pocus has a tight hold on the schedule, so be sure to tune in anytime on Halloween if you're in need of some ghoulish fun. The rest of Freeform's 31 Nights of Halloween schedule can be found on the network's website. You'll want to catch a bunch of these movies, trust me!