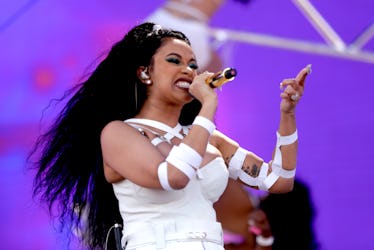 24 Cardi B Lyrics From "Be Careful" That'll Upgrade Your Next Instagram Caption
Rich Fury/Getty Images Entertainment/Getty Images
Can we talk about Cardi B? The female rapper has been making waves, and not a second of it should go unnoticed. Many of us are totally tuned into her life and learning to say, "Okurrr!" Personally, I'm still trying to learn the lyrics to "Bodak Yellow," and wondering just how expensive a pair of red bottoms really are. On May 21, the rapper released a new music video for the track "Be Careful" off of her latest album, Invasion of Privacy. These Cardi B "Be Careful" lyrics for captions are everything you need right now, especially because we were left so shook.
Now, rap music isn't usually my go-to. I'd prefer to put on my playlist full of alternative songs when I'm getting ready to go out or hanging by the beach. But, I can appreciate the fact that Cardi B is making "money moves" in the industry and has quite the following. She's made her appearance at award shows, and you can't help but fall in love with what she wore to the Met Gala.
When it comes to the music video, Cardi B graced us with a wedding and a funeral. The whole thing begins with her walking up to a chapel the the desert, dressed in a wedding dress, and then suddenly she's wearing all black and studded boots. Want to talk about a switch up! When it comes to the "Be Careful" track, though, this video makes total sense. The lyrics talk about cheating, lying, and the end of happily ever afters.
So, maybe you're posting pictures with your besties and feeling a little on-edge, or just need a #fire Instagram caption for those selfies and thirst traps this summer. Leave it Cardi B lyrics to give you exactly what you're looking for. When it comes to "Be Careful," there are at least 24 lines you can pull out that will seriously upgrade that post.
1. "Be careful with me."
2. "I guess it's fine, man, I get the message."
3. "I'm not that type of b*tch."
4. "What's mine is yours."
5. "Guess you actin' out now, you got an audience."
6. "It's gon' hurt me to hate you, but lovin' you's worse."
7. "Teach me to be like you so I can not give a f*ck."
8. "Chillin' poolside, livin' two lives."
9. "Between a rock and a hard place."
10. "And karma for you is gon' be who you end up with."
11. "Man, I thought you would've learned your lesson."
12. "My heart is like a package with a fragile label on it."
13. "Drop a pin, what's the coordinates?"
14. "I hope you get what you dyin' for."
15. "You still stutter after certain questions."
16. "The only man, baby, I adore."
17. "You gon' gain the whole world."
18. "Thinkin' I'm flawed because you inconsistent."
19. "You don't want someone who loves you instead?"
20. "I wish these feelings could melt."
21. "Always said that you'd be there for me."
22. "Boy, you better treat me carefully."
23. "You might have a fortune, but you lose me, you still gon' be misfortunate."
24. "Care for me."
Be careful with Cardi, OK? In fact, while you're at it, let's all be a little more careful with each other. Girls are strong AF, but that doesn't mean that we should need to be all the time. We'll be moving mountains and making waves in our own industry, but that's only a sure sign that you shouldn't mess with us. These lyrics give us words for many of our feels, especially after being so shook from the "Be Careful" music video. What's next, Cardi B? With a baby on the way, the fan base is already going wild.