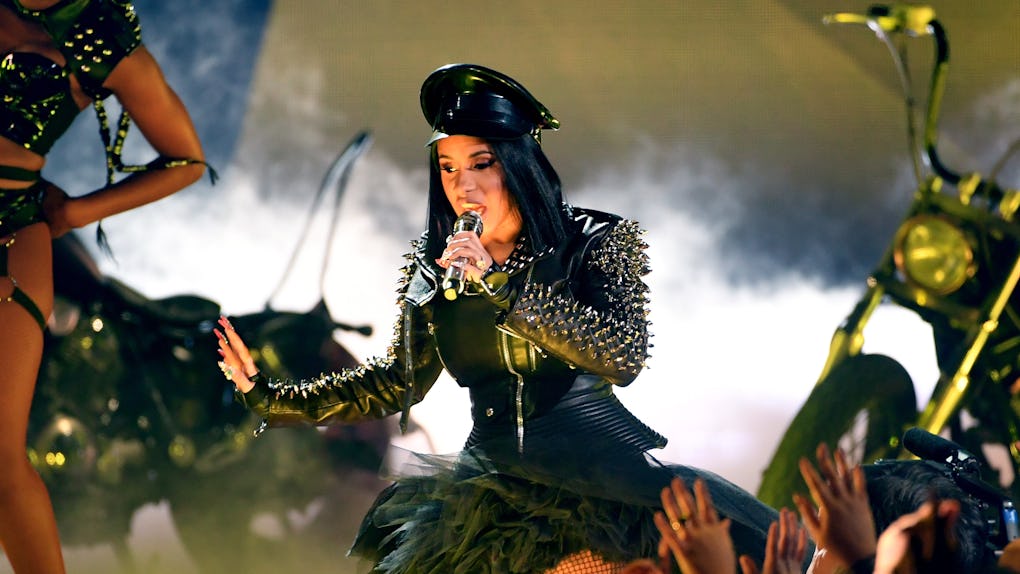 Kevin Winter/Getty Images Entertainment/Getty Images
30 Best Cardi B Lyrics For Instagram Captions, Because You're Living Your Best Life
Bow down to Cardi B. She can't stop, won't stop slaying the music game — and I'm so seriously here for it. Cardi graced us with "Bodak Yellow" in 2017, which subsequently made us all tend to our side hustles in the hopes of making "money moves." The truth is, girl power takes a whole new form in our favorite female rappers, and the minute Cardi B's red-bottomed shoes hit the red carpet and radio scene, she was making waves. This weekend, you'll want to use some of the best Cardi B lyrics for your Instagram captions, because your feed needs all the fire flames. Seriously, your followers and Saturday night snapshots deserve only the best from yet another queen bee.
The rapper's debut album Invasion of Privacy dropped on April 6, 2018. As always, fans immediately decoded all of the lyrics, wondering which ones are directly related to all the Offset rumors from January 2018. At the time, it was suspected the Migos' rapper cheated on his fiancé, and Cardi addressed the rumors to People, saying, "I'm going to make a decision in my own times with my heart and mind." The public is always speculating, but Cardi didn't let that stop her from being oh-so-successful; she turned the drama into inspiration for all of the anthems fans needed. Not to mention, her and Offset worked through the situation and are still happily married and raising their daughter, Kulture, together.
If you've already listened to the album, then you know Chrissy Teigen's reaction to it on Twitter was just right. Fans were dropping their biscuits, too, over tracks like "Be Careful," which seems to spill the details fans had been looking craving. *Sips tea from the other side of the screen, and not just because it's early in the morning.*
Fans love putting songs on their playlists and profiles that pump them up, so when they're prepping their social media for Saturday night, they want only the most legendary lyrics to complement their selfies and slaying looks. So, as always, don't sleep on all the Instagram post possibilities to settle for something below average. Cardi B has got your back with all her latest tracks, so your next picture is beyond perfect and straight-up fire.
1. "Look, I don't dance now. I make money moves." — "Bodak Yellow"
2. "Boy, you better treat me carefully." — "Be Careful"
3. "Beyoncé on my stereo. Resentment on repeat." — "Thru Your Phone"
4. "Moonwalkin' through your clique." — "Bartier Cardi (feat. 21 Savage)"
5. "Fleek the definition of me. I keep it in check, papi. I am a whole different breed." — "On Fleek"
6. "Ain't no runnin' up on me. Went from nothing to glory." — "Get Up 10"
7. "Diamonds on me, what's the price? I'm not gettin' involved with the hype." — "Drip (feat. Migos)"
8. "I gave you everything. What's mine is yours. I want you to live your life of course, but I hope you get what you dying for." — "Be Careful"
9. "You know what I want and what I need, baby." — "Please Me"
10. "And I just checked my accounts. Turns out, I'm rich, I'm rich, I'm rich." — "Bodak Yellow"
11. "Was a good girl, watch me turn diva. Here goes my heart, I put it on speaker." — "Ring (feat. Kehlani)"
12. "Spoil me in Prada, I'm worth every dollar." — "She Bad"
13. "They throwin' shade 'cause they see me on top." — "Press"
14. "You in the club just to party. I'm there, I get paid a fee." — "Bodak Yellow"
15. "They say you basic, I flooded the Rollie with diamonds." — "Bartier Cardi (feat. 21 Savage)"
16. "You got me lookin' in the mirror different. Thinkin' I'm flawed because you ain't consistent." — "Be Careful"
17. "Only the real can relate." — "Bodak Yellow"
18. "I'm living my best life. It's my birthday, at least that's what I'm dressed like." — "Best Life (feat. Chance the Rapper)"
19. "I run this sh*t like cardio." — "I Like It"
20. "Put it on airplane mode, so none of those calls come through." — "I Do (feat. SZA)"
21. "But never did I change, never been ashamed. Never did I switch, story stayed the same. I did this on my own, I made this a lane. Y'all gotta bear with me, I been through some things." — "Best Life (feat. Chance the Rapper)"
22. "Ding dong. Must be that whip that I ordered and a new crib for my daughter." — "Press"
23. "You heard she gon' do what from who? That's not a reliable source, no." — "Motor Sport"
24. "I need Chrissy Teigen. Know a bad b*tch when I see one. Tell RiRi I need a threesome." — "She Bad"
25. "I'm young and I'm heartless." — "Bickenhead"
26. "I can't believe they wanna see me lose that bad." — "Best Life (feat. Chance the Rapper)"
27. "Cardi rocking it, go buy stock in it." — "I Do (feat. SZA)"
28. "Guess you actin' out now, you got an audience." Tell me where your mind is, drop a pin, what's the coordinates?" — "Be Careful"
29. "Went from small-ass apartments to walking red carpets." — "Best Life (feat. Chance the Rapper)"
30. "I got to make sure that you feel me. I need to make sure they remember me forever. I have to show you." — "I Gotta Hurt You"
Let Cardi take over your feed for a few posts this weekend, and you'll be feeling all of the love and likes. From her lyrics that make you feel like a total badass to the ones that speak to your most emotional breakups, there's an anthem for every single situation this Saturday night. And you want your followers to know you're living your best life.
This article was originally published on