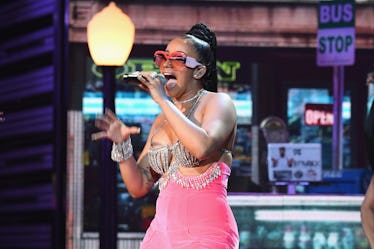 20 Of Cardi B's Best Lyrics That Prove She's The Queen Of Hip-Hop
Paras Griffin/Getty Images Entertainment/Getty Images
Cardi B is the baddest woman in the music industry. "Bodak Yellow" has soared to number one on the Billboard Charts and she has continued to grow her music career by being purely original. She's inspiring and (let's face it) our Spotify playlists would be so much weaker without her. Below are 20 Cardi B lyrics that will make you feel like a total badass.
Warning: A lot of these lyrics contain cursing. Cardi B is who she is and doesn't need to apologize. Roll with her and enjoy.
1. Can't be starting all these problems if you cannot solve them. Cardi backing down I swear to God that's not an option. — "Foreva"
2. I guess I really gotta show them what the f*ck is up. I'm on some other sh*t, that Cardi B gutta sh*t. — "Red Barz"
3. Said little b*tch, you can't f*ck with me if you wanted to. These expensive, these is red bottoms. These is bloody shoes. — "Bodak Yellow"
4. Bite down, bite down, it was crunch time. Yeah I skip all of them b*tches in the lunch line. I put in work, now I'm here at the front line. — "Red Barz"
5. Pull up with the Gucci clutch, spitting clutch rhymes. Flyer than a big big B with a Blood tie. Don't do much, he get hard when I bust wines. No straws for this juice box, got one time. — "Red Barz"
6. Lookin' like I caught a lick. Run up on me, you get hit. And all my b*tches with the sh*ts. Bronx, New York, gangsta b*tch. — "Lick"
7. Wealthy now, but every dollar, I still want it all. Now he wanna nail me, I could give your man a cure. You gotta mail me, but I don't check my spam at all. — "Red Barz"
8. This not a game, f*ck is you saying. B*llshit is something I don't entertain. — "On Fleek"
9. I'm the b*tch they love to hate, I'm the b*tch they hate and love. Yellow b*tch. I look like Diamond in Playas Club — "Washpoppin"
10. Fleek the definition of me. I keep it in check papi. I am a whole different breed — "On Fleek"
11. I be in and out them banks so much, I know they're tired of me. Honestly, don't give a f*ck 'bout who ain't fond of me. Dropped two mixtapes in six months, what b*tch working as hard as me? — "Bodak Yellow"
12. I be on some other sh*t. Just letting you know from now. So when that time come around and I don't catch you like him. Move outta town. — "Leave That B*tch Alone"
13. I remember walkin' in the stores, I couldn't buy nothin'. They look at me starin'. Now I just walk in the stores, I like it I cop it. I don't even think. — "Lick"
14. I see some people who still worried about my revenue. I'm eating good you wish you could don't worry about my food. — "Foreva"
15. And I just checked my accounts, turns out, I'm rich, I'm rich, I'm rich. — "Bodak Yellow"
16. I'm not a bum b*tch, I'm a boss b*tch. You sideline, I'm centre stage. — "Rollin"
17. I'm the Bronx b*tch, I'm feisty. "Cardi why you feisty?" Shut up b*tch, fight me. — "Pop Off"
18. "A hoe never gets cold", you know what the motto is. Unless it's forgets diamond cuts, gold bottles, b*tch. Sitting in that 64, b*tch, feeling hella lit — "Hectic"
19. I got to make sure that you feel me. I need to make sure they remember me forever. I have to show you. — "I Gotta Hurt You"
20. You in the club just to party, I'm there, I get paid a fee. — "Bodak Yellow"
Cardi B definitely has some lyrics that will make you blush, but also feel like your most powerful self. She is one of the hardest working women in music, and I'm glad she's starting to get the recognition she deserves. Congrats on all your success, Cardi B.
Check out the entire Gen Why series and other videos on Facebook and the Bustle app across Apple TV, Roku, and Amazon Fire TV.