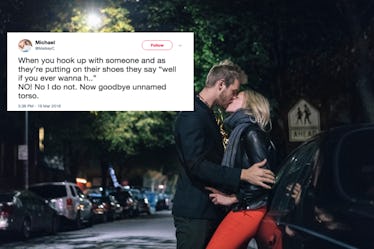 21 Tweets About Hooking Up Will Make You Say, "Damn, That's Me"
Anyone who's ever been even remotely involved with hookup culture can attest to the fact that the experience of hooking up with people comes with its own unique trials and tribulations. Some experiences within hookup culture are so weird and so inexplicable that you're left thinking that you must literally be the only person on the face of the Earth who has ever gone through anything even remotely like this. But, alas, my friends, you are not alone. In fact, these tweets about hooking up with people and all of the awkward, embarrassing, sad, and sometimes hilarious experiences that come along with it prove that we're all in this together.
Read along as people recount their most memorable hookup stories like the story of the girl who made a really long, drawn-out pun during pillow talk and never heard from the dude (who she had been hooking up with for THREE MONTHS) ever again. Or the person who thought they were finally moving on from their ex... and then almost yelled out their ex's name during sex with a random person. Oooh! Or the person who woke up with a feeling that today was finally going to be the day he was going to get some only to find that, yet again, it was not. And that's just the tip of the iceberg. Read along and prepare to say "same."