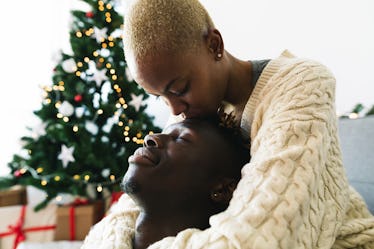 How To Do The Stocking Stuffer, 2018's Hottest Holiday Sex Move
There is nothing more arousing to me than the idea of a loved one buying me C.O. Bigelow Rose Salves, lavender-infused jojoba oil, and other stocking-sized trinkets that I buy for myself regardless, but prefer to be gifted. Don't get it twisted, for Christmas celebrators, a stocking is not to be missed. And for those of us who ring in the winter with Hanukkah, Kwanzaa, Solstice or more — sometimes, the best gifts come in small (or unexpectedly large) packages. Whether you're waiting for Santa, latkes, or 2018 to finally end (Do you even remember the Olympics that happened earlier this year?!), this 2018 holiday sex position comes with as much anticipation.
"Hung by the chimney with care," or more explicitly: The Stocking Stuffer, is a playful way to show your boo you care, beyond a peck under the mistletoe. Of course, the Stocking Stuffer is the gift that keeps on giving. It's an immediate present for you body, and the linger hope of waking up to a bunch of carefully selected and thoughtful items that you over the course of the year have not-so-subtly mentioned wanting. Giving and receiving (wink-wink, nudge-nudge) can put you in the mood — after all, it is the holiday season.
Here's a how-to for the sexiest winter move, in the sheets and above your fireplace.