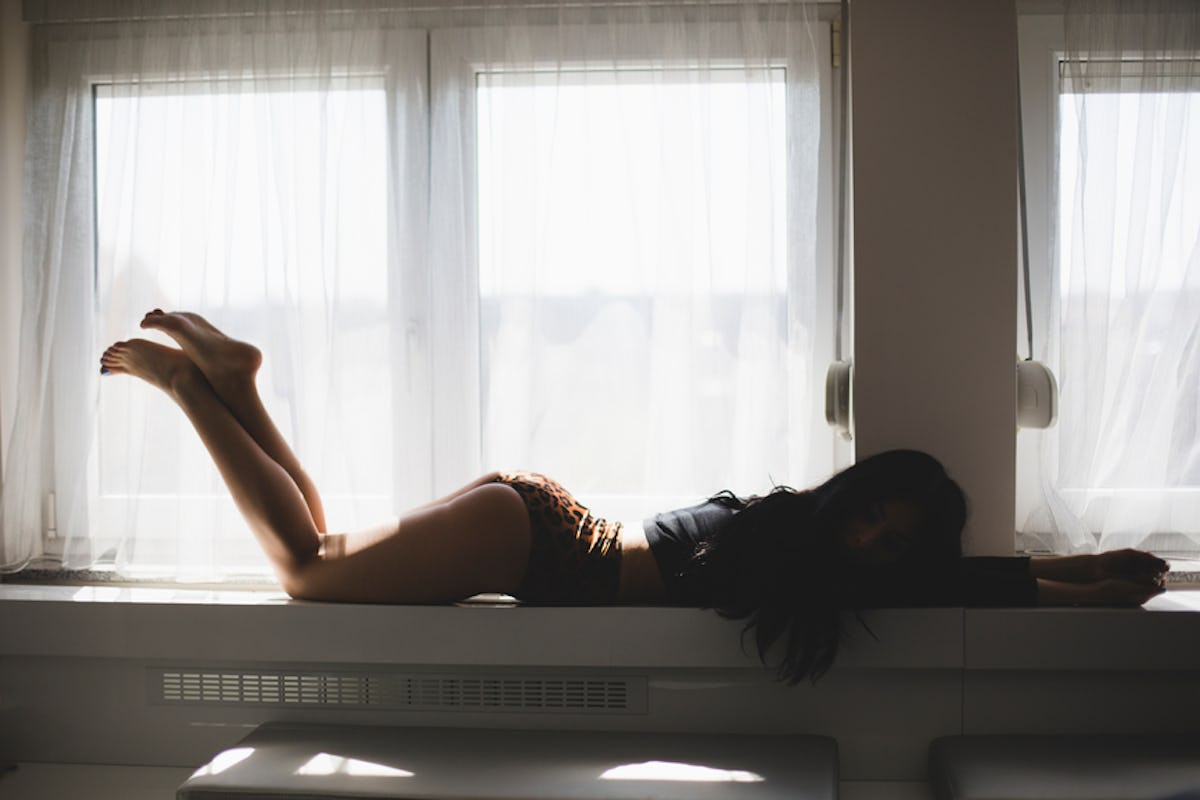 4 Sex Positions To Try In 2018 If You're Resolving To Be More Adventurous
We all know that one of the best parts of starting a new year is beginning fresh with a blank slate and making a few resolutions to ensure you're living your best life. And believe it or not, that fresh start can extend to the bedroom. If you're starting to get a bit bored with your go-to positions between the sheets, then it's definitely time to round up a few new sex positions to try come 2018.
It goes without saying that everyone has a very different relationship with and comfortability with their own sexuality. And although it may be easier for some people to fully connect with themselves, sexually speaking, than others, you can still totally break out of a predictable routine in the bedroom when you secretly desire to try something new — just at your own pace. Of course, this doesn't mean that you have to let go of your old favorite positions. Rather, step outside of your comfort zone and venture off as far as you're willing into some uncharted territory.
For many of us, sexual satisfaction is a very important part of our day-to-day satisfaction overall. So instead of remaining undyingly loyal to good ol' missionary (but no shame if that's what you love), here are some new variations to the horizontal tango that will be sure to add a bit of adventure to the mix for you.
1. The Oyster
I can't think of a better way to put all that yoga to the test. To master this position, courtesy of Bad Girls Bible, you're certainly going to need some flexibility. So if you're looking for some new challenges to tackle in 2018, this position is for you. Plus, being face to face with your partner allows for plenty of kissing and caressing at the same time.
2. Stair Climber
Don't let the name intimidate you. This position is basically just like doggy style, with an added twist, according to Bad Girls Bible. Spoiler alert: Assuming you're not living in a two-story place and don't have a staircase at your disposal, you're going to need to find one. You essentially position yourself as if you're crawling up the stairs, and your partner enters you from behind.
The incline of the stairs allows for you to explore some different depths and angles. And let's face it: Doing your thang pretty much anywhere outside of your bedroom is a surefire way to add a little risk to your routine and get that blood pumpin'.
3. Knee Knocker
Reminiscent of a 90s romance movie, something about this position, courtesy of SexPositions.Club, strikes me as very cinematic. Basically, you and your partner both kneel, and your partner enters you from behind — a perfect combination of the benefits of kneeling upright, rear-entry, and spooning. The nice part is the big spoon has easy access to all of the little spoon's erogenous zones. This is a solid choice if you're looking for a nice blend of romance and spice
4. Superhero
This one's perfect if you've been meaning to take advantage of all that kitchen counter space or perhaps break in a new dining table. Instead of the usual face-to-face table action, this position, according to AskMen, has the receiving partner face down on a flat surface. Then, the receiver wraps their legs around the waist of the giver, who enters the receiver from behind. If feeling like a superhero goddess is your thing, then the superhero is a great choice.
Let's make 2018 the year of going after what you want and exploring different sexual sides of yourself. Don't settle for just good sex, when you could be having great sex. And don't settle for great sex when you could be having the best sex of your life. The oldies but goodies will always be there if you feel like you want to go back to them, so why not give yourself the chance to turn up the heat.
Check out the entire Gen Why series and other videos on Facebook and the Bustle app across Apple TV, Roku, and Amazon Fire TV.
Check out the "Best of Elite Daily" stream in the Bustle App for more stories just like this!