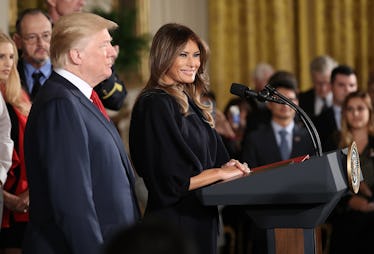 Melania Trump's 2017 Was So Different From Her 2016, To Say The Least
Win McNamee/Getty Images News/Getty Images
It's been quite a transitional year for the First Lady of the United States. From moving into her new home in Washington D.C., to her first Christmas-decorating extravaganza in the White House to end the year, the first lady has had a year of firsts, and not all of them have been positive. Let's just say, 2016 vs. 2017 for Melania Trump has been an adjustment, to put it lightly.
In a new December 2017 poll, Gallup determined that Melania Trump's favorable rating had gone up 17 points since January, earning her a 54 percent approval rating. So, the majority of Americans have a favorable opinion of her... while her husband's disapproval rating is at 56 percent. For whatever reason, Melania is viewed favorably among Americans, despite some pinnacle points of criticism she has received this year.
To start, one of the biggest differences between 2016 and 2017 for the first lady might be her fashion choices, and her relationship to fashion designers. One of the first designers that announced her decision to not work with Trump was Sophia Theallet back in November 2016. The designer issued a statement on Twitter saying, "As one who celebrates and strives for diversity, individual freedom, and respect for all lifestyles, I will not participate in dressing or associate myself in any way with the next First Lady. The rhetoric of racism, sexism, and xenophobia unleashed by her husband's presidential campaign are incompatible with the shared values we live by."
Since then, at least 10 designers, including Marc Jacobs and Tom Ford, have decided to not dress the first lady because they disagreed with or did not support her husband's politics.
One of the other obvious changes in the life of Trump has been making the move from her New York high-rise to the White House. Melania Trump and her son, Barron, 11, stayed behind in New York for the first half of 2017 so Barron could finish school. On June 14, once summer break was in session, the two made the move to the White House where they have been living happily since, I'm sure.
A major change from 2016 to 2017 has also been the press coverage and attention Trump has gotten as first lady — no facial expression or hand gesture has gone unnoticed to the public. We rang in 2017 with President Trump's inauguration, but we also got the close-up footage of Trump's very real facial expressions that spoke louder than words. What followed was the viral hashtag #FreeMelania.
The whole country also watched the up close hand smack that Trump did to her husband while getting off the plane in Israel. People really don't miss a beat.
Something that Melania Trump might not have seen coming in 2017 was having to defend herself as first lady against the president's ex-wife, Ivana. During an October interview with ABC, Ivana Trump claimed to have a "direct number" to the White House and explicitly said, "I'm basically first Trump wife. OK? I'm first lady." The first lady wasn't playing games when she responded with a statement from her office which said, "She loves living in Washington, D.C. and is honored by her role as First Lady of the United StatesThere is clearly no substance to this statement from an ex, this is unfortunately only attention-seeking and self-serving noise."
To end the year off, Trump got to do the honors of decorating for her first Christmas in the White House. Trump tweeted a video of her holiday decorations throughout the White House, and it's undeniably beautiful... even if memes said otherwise.
It's been a monumental first year for FLOTUS, and it's safe to say a great deal has changed in her life from 2016 to 2017. One can only wish her luck for another year by her husband's side in the White House, and maybe we can hope for more hand smacking footage in the future.