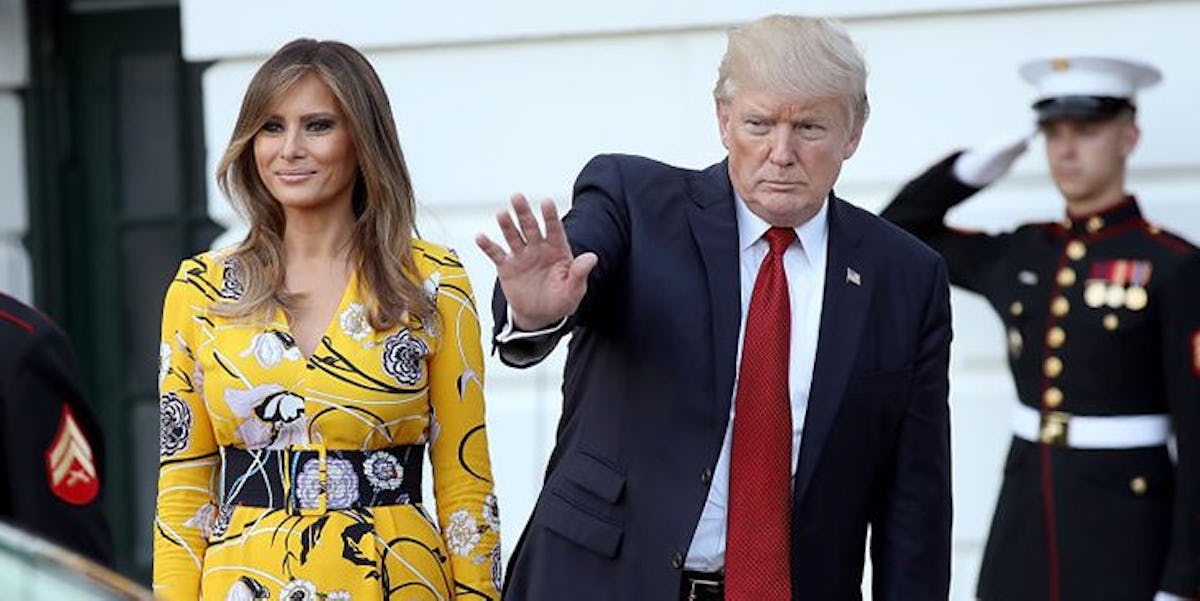 Try Not To Cringe At This Video Of Donald Trump & Melania Shaking Hands
Win McNamee/Getty Images
Every couple has their own unique ways of showing that they love and care about each other. Barack Obama fist bumped Michelle. Mike Pence ~allegedly~ calls Karen "mother." And Donald and Melania Trump shake hands super, super awkwardly, like maybe they've only met once in their entire lives.
The aforementioned WTF exchange occurred on Sept. 15, when Melania introduced Donald at Joint Base Andrews in Prince George's County, Maryland. The president approached the podium and instead of opting for the customary hug and kiss, he shook Melania's hand in the most stern, vigorous way possible. It was all very, very formal and it kind of looked like Melania was startled by the whole exchange. Plus, I might just be projecting, but the two servicemen behind the couple seemed to be smirking while the interaction was going down.
It should be noted that, following the handshake, Donald put his hand on Melania's lower back – which could be interpreted as a loving, sweet move. On the other hand, it also looks like he was trying to shoo her away from the podium. Not quite as sweet.
The brief clip prompted a great deal of cringing on Twitter, along with many, many comparisons to Michelle and Obama's most affectionate #relationshipgoals moments.
OK, so the handshake-and-push-aside thing is definitely an unusual move. But on the timeline of unusual exchanges between Donald and Melania Trump, it actually ranks pretty low. A lot higher on the list are the multiple times that Melania has refused to hold Donald's hand – which had a lot of the internet being like, you go Melania.
The first time she opted out of hand holding,  it looked like she was (conveniently) too busy removing a stray hair from her face. The second time, it just looked like she straight up swatted his hand away.
A few other completely cringe-y moments between the couple?
That time during the inauguration when Donald turned to smile at Melania, and then – as soon as he turned away – her face shifted very quickly into an expression that resembled pure, unfiltered fury. The gif quickly set Twitter on fire with #FreeMelania, with many people essentially saying,  "MELANIA, BLINK TWICE IF YOU NEED ANY HELP."
That exact same day, THIS exchange was caught on camera. I'm no body language expert, but I think this clip could go down as a compare and contrast for the ages.
The awkwardness continued to march on, as multiple clips surfaced of Donald and Melania air kissing, holding hands (but just barely!), and sitting miserably at functions together.
If all of these moments are making you feel bad and want to immediately go out and buy a #FreeMelania shirt – you really shouldn't. The First Lady herself told Anderson Cooper back in October that she thinks any sympathy on her behalf is completely misguided. She said,
People talk about me like, 'Oh, Melania, oh poor Melania.' People don't really know me. I'm very strong. I can handle everything. Don't feel sorry for me. Don't feel sorry for me.
She also called their relationship "very strong" and added that she is offended by the way that the media has been reporting on herself and her family.
"The names they are calling me, they are calling my husband, calling my family, it's unacceptable," she said. "[Donald Trump's] very passionate about the American people.He's a worker, he's a fighter. He will not give up. He will fight until the end. And he will fight for [the] American people as he's fighting now for himself."
Those are definitely some very powerful, loving sentiments right there — and hopefully at some point they'll sync up with the couple's public interactions. In the meantime, both Donald and Melania can rest easy knowing that the most awkward title in The White House remains firmly and resolutely with the whole supposed Mike Pence "mother" thing.